Watch Ralph Peters' Wildest Hits: From Calling Obama a Pussy to Comparing Tucker to a Nazi Sympathizer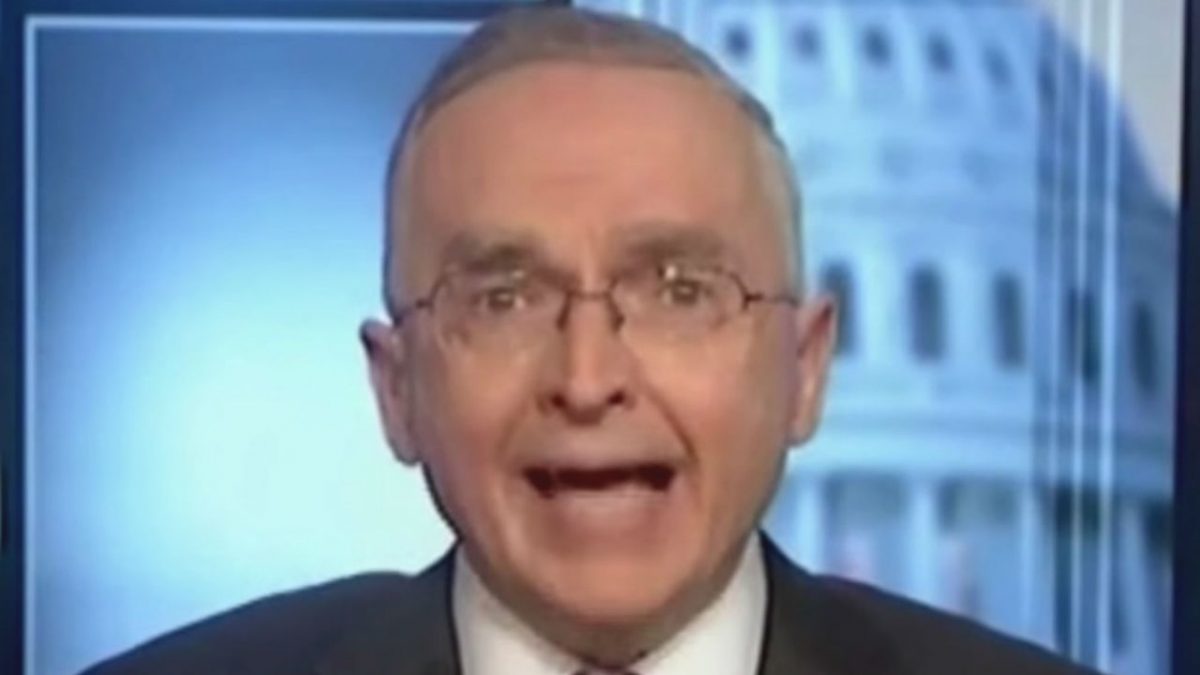 Retired United States Army lieutenant colonel Ralph Peters quit Fox News on Tuesday, after serving as a network analyst and commentator for years. His resignation from the network was revealed in a blistering email he sent to colleagues that was obtained by Buzzfeed News.
"Today, I feel that Fox News is assaulting our constitutional order and the rule of law, while fostering corrosive and unjustified paranoia among viewers," Peters wrote. "Over my decade with Fox, I long was proud of the association. Now I am ashamed."
He didn't stop there, adding that "Fox has degenerated from providing a legitimate and much-needed outlet for conservative voices to a mere propaganda machine for a destructive and ethically ruinous administration."
Peters also made sure to drop a rhetorical MOAB on Fox News's primetime lineup, which now boasts Tucker Carlson, Sean Hannity and Laura Ingraham:
When prime-time hosts–who have never served our country in any capacity–dismiss facts and empirical reality to launch profoundly dishonest assaults on the FBI, the Justice Department, the courts, the intelligence community (in which I served) and, not least, a model public servant and genuine war hero such as Robert Mueller–all the while scaremongering with lurid warnings of "deep-state" machinations– I cannot be part of the same organization, even at a remove. To me, Fox News is now wittingly harming our system of government for profit.
The fiery email was an absolute earth-scorcher, and will certainly ensure he no longer makes any appearances on the network. But to anyone who's familiar with Peters' cantankerous charms and fiery rants, the missive should come as little surprise. What's more, while Peters has recently made headlines for his blistering rebukes of the Trump administration, his rhetorical crusades against Obama were perhaps even more electric.
So, in eulogy of Peters' decade-long Fox News career, enjoy this compilation of his greatest hits:
1. Ralph Peters on Obama: "This guy is such a total pussy, it's stunning!"
Peters was on Stuart Varney's Fox Business Network show to talk about Obama's ISIS strategy in 2015, and pretty much lost it.
"Mr. President we're not afraid, we're angry, we're pissed off, we're furious! We want you to react, we want you to do something!" Peters said. "You're afraid! This guy is such a total pussy, it's stunning!"
The remark earned him a scolding from Varney and a two-week suspension from FNC.
2. Ralph Peters calls Vladimir Putin "Al Sharpton with Nukes'
In another classic episode of Ralph Peters Suggests Obama is a Pussy, this one in 2014, the commentator reminded the former U.S. president that long after he's been "consigned to the ash heap of history," Putin will still lead Russia.
"He is sort of Al Sharpton with nukes, creating this cult of victimhood, victimhood, victimhood for the Russian people," Peters said of Putin.
3. Ralph Peters compares Tucker Carlson to a Nazi apologist
In a heated debate over Trump's friendly stance towards Putin — who Peters described as a "killer" — Tucker Carlson made the case that Russia has similar interests as the United States.
"You sound like Charles Lindbergh in 1938 saying 'Hitler hasn't attacked us,'" Peters told Carlson, referring to the famed American aviator who opposed the U.S. going to war with Nazi Germany.
Safe to say, Carlson took great offense to that comparison, and later in the interview mocked Peters for not speaking Arabic (classic Tucker, am I right?)
4. Ralph Peters tells Bill O'Reilly: "Real men don't hire hookers"
Peters appeared on Bill O'Reilly's Fox News show in 2012 to provide his expert commentary on the Secret Service prostitution scandal that involved one hotel room, 11 agents and 20 sex workers.
Peters explained to O'Reilly that while South America is a "party continent," the behavior of the agents was inexcusable, because "real men don't hire hookers."
5. Ralph Peters suggests a solution to US-North Korea tensions: bomb the entire country into oblivion
Peters wrote an op-ed last September that the New York Post — Trump's tabloid of choice — somehow thought it sensible to publish, bearing the headline:
The moral answer to North Korea threats: Take them out!
Think that's nuts? Just wait until you get to the first line of the op-ed:
"Better a million dead North Koreans than a thousand dead Americans."
Yep. Farewell, Ralph Peters, your rantings and ravings will be sorely missed.
[image via screengrab]
—
Follow Aidan McLaughlin (@aidnmclaughlin) on Twitter
Have a tip we should know? tips@mediaite.com
Aidan McLaughlin - Editor in Chief