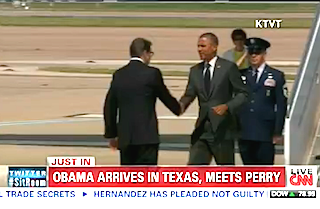 Governor Rick Perry (R-TX) was determined not to shake President Barack Obama's hand when he arrived at Dallas-Fort Worth airport on Wednesday. But in the end, it appears he just couldn't help himself.
As CNN's Wolf Blitzer said while Obama was descending the steps of Air Force One, "I'm anxious to see if the governor Rick Perry, the governor of Texas, is there at the bottom of the stairs to receive the president of the United States."
The anchor betrayed some surprise when Perry walked across the tarmac to greet Obama, shaking his hand and walking side by side to Marine One, where they would have a private meeting about the current crisis at the border.
Earlier in the week, Perry reportedly declined Obama's offer to shake his hand with television cameras rolling upon his arrival in Texas. According to the Austin American-Statesman, Perry wrote to Obama:
"I appreciate the offer to greet you at Austin-Bergstrom Airport, but a quick handshake on the tarmac will not allow for a thoughtful discussion regarding the humanitarian and national security crises enveloping the Rio Grande Valley in South Texas. I would instead offer to meet with you at any time during your visit to Texas for a substantive meeting to discuss this critical issue. With the appropriate notice, I am willing to change my schedule to facilitate this request.

At any point while you are here, I am available to sit down privately so we can talk and you may directly gain my state's perspective on the effects of an unsecured border and what is necessary to make it secure."
Following Perry's letter, the Obama administration decided to invite the governor to join Obama at a previously scheduled meeting with faith leaders and elected officials in Dallas. Following that concession, Perry decided he would be comfortable greeting Obama on the tarmac, though he did not indicate whether he would deign to shake the president's hand.
If Perry was wary of the type of photo op that has haunted Republicans like Governor Chris Christie (R-NJ), and former Republicans like Charlie Crist, he can at least be thankful that the president did not try to hug him. Though, he did give him a few friendly pats on the back.
If anything is going to doom Perry's chances at landing the Republican presidential nomination in 2016, it's probably not going to be these photos:
Gov. Rick Perry greets President Obama in Dallas, TX pic.twitter.com/p3iq90fHrO

— Doug Mills (@dougmillsnyt) July 9, 2014
#BreakingNews: President Obama meets with Texas Gov Perry on the immigration crisis – but in Dallas, not at border pic.twitter.com/IXSNyvIKjR

— Shepard Smith (@ShepNewsTeam) July 9, 2014
From another angle: Gov Perry welcomes Pres Obama to Texas. (Pool photo by Scott Horsley/@nprnews) pic.twitter.com/c2u4Ny90nC

— Mark Knoller (@markknoller) July 9, 2014
Watch video below, via CNN:
[Photo via screengrab]
— —
>> Follow Matt Wilstein (@TheMattWilstein) on Twitter
Have a tip we should know? tips@mediaite.com