Ricky Gervais Is As Wicked As Ever In His Return Golden Globes Monologue
Ricky Gervais Is As Wicked As Ever In His Return Golden Globes Monologue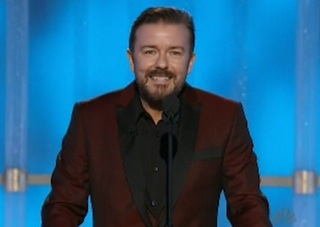 Ah, the Golden Globes, perhaps the least essential thing to air on American television that doesn't involve a Kardashian or competitive pawn shopping. It's an awards show so meaningless that the first time in years that anyone cared about it was when some British guy got up on stage and ripped the whole thing to shreds. Fortunately for us, the Hollywood Foreign Press was smart (and masochistic) enough to bring that man back.
Even more fortunately, Ricky Gervais' monologue this year was just as biting as last. (UPDATE: The original version of this post incorrectly labeled this as Gervais' second time hosting the show. It is his third.)
RELATED: Golden Globes Begins As It Should: With Two Minutes Of Technical Difficulties
Yes, despite the fact that last year's rant led to endless hand wringing over whether or not he'd been too hard on poor, poor Angelina Jolie or Johnny Depp (seriously, I'd be surprised if those ridiculous "news" stories didn't help inspire the Occupy Movement in some little way), Gervais showed no sign of holding back.
I won't spoil all the punchlines, but suffice it to say that Gervais wasted no time taking on the HFPA and NBC comparing his employers to the cast of Boardwalk Empire and calling the network a "non-profit." And he kept the Tourist jokes going from last year, giving Depp the greatest, longest, and most awkward introduction of the night. And, even more than last year, the cameras seemed like they were purposefully looking for ticked off audience members. However, arguably the best moment came when Jodie Foster enthusiastically played along with some fairly inevitable jokes about the title of her last directorial bid.
Seriously, it's amazing no one's come up with this kind of "hosting" earlier; literally saying into the mic what all of us at home (and probably most of the attending audience as well) are saying under our breath. All award shows are pretty much awful and the Globes, with its years of bribery scandals and Pia Zadoras, is particularly egregious. In 2012, I just don't think audiences have the patience to sit for three hours while a shadowy organization claims that Glee is one of the best shows on TV and then asks us to treat it with respect.
So, whatever you think of Ricky Gervais – whether you think he's too mean or that Life's Too Short isn't as good as Extras and The Office or whatever – I think we can all agree that the man deserves our thanks. God bless him for treating this whole affair with the amount of respect it deserves.
Seriously, can that SNL sketch just be true?
Watch the clip from NBC below:
Have a tip we should know? tips@mediaite.com