Watch Robert Blake Lash Out At Piers Morgan During Epic, Profanity-Laced, Fiery Interview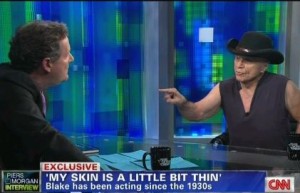 Actor Robert Blake sat down for his first TV appearance in over a decade with Piers Morgan on CNN tonight, The interview started out normally enough, but as it went on and Morgan asked more probing questions about the death of his wife Bonnie Lee Bakley and the subsequent trial where he ended up being acquitted for her murder, the interview grew incredibly tense, and Blake lashed out at Morgan his questions, confronting the CNN host about his supposed accusatory tone and dismissing the questions as "boring."
Morgan opened the interview by admitting that in all his years of talking to famous people, his conversation with Blake is one for the record books. Blake was bleeped approximately 40 times throughout the entire, hour-long interview.
In the first part of the interview, he went back-and-forth talking about his showbiz career and the most trying times of his life, for which he thanked God for helping him get through. He told Morgan that he was "deeply grateful" for having him on the show, and called out Barbara Walters for refusing to ever have him on The View because of how the daytime show's audience might react to having a man accused of murdering his wife on the program.
Morgan then finally brought the conversation to the death of his wife in 2001 and the life-changing events that followed. He said that he never felt in love with her and made it clear he thought she was a con artist. In the third segment of the interview, Morgan asked Blake about his wife's murder and the trial he publicly went through, and that's when all the air in Piers Morgan's studio suddenly got sucked out. Here is a portion of the incredibly tense conversation between the two men:
Morgan: I want to get to the truth if I can.

Blake: If you can? Be careful. I want you to be careful, because sometimes the guy in the ear tends to insult me a little bit. You want to get to the truth, if you can. Does that mean I'm lying to you?

Morgan: I don't know. Are you?

Blake: (long pause) What do you think?

Morgan: I don't know. We're going to get to some questions where…

Blake: Well, tell me where I'm lying. 'Cause if you don't know I'm telling you the truth then you must have a little scratch in the back of your head whether I'm lying. Tell me where I'm lying.

Morgan: I'm not saying you're lying.

Blake: Well, you're saying I'm not telling the truth, what's the difference?
Blake said, "Nobody tells me I'm a liar." Morgan pushed Blake on the details of the trial, acquittal, and his loss in a subsequent civil case. He told Morgan that he should have done more research on the circumstances surrounding the case, but Morgan insisted he was basing his questions on the facts of the situation. Blake shocked Morgan by telling him that Bonnie Lee's death nowhere near the most significant moment of his life, ranking it behind highlights of his acting career.
Watch part 1 of the interview below, courtesy of CNN:
Part 2:
—–
Follow Josh Feldman on Twitter: @feldmaniac
Have a tip we should know? tips@mediaite.com
Josh Feldman - Senior Editor