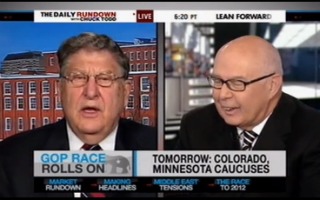 Mitt Romney surrogate and former New Hampshire governor John Sununu went head-to-head with Newt Gingrich campaign adviser Bob Walker on MSNBC's Daily Rundown Monday morning as the two disagreed on the state of the ongoing GOP race.
When talk turned to the negative nature of the election cycle's campaign ads (particularly Romney's, according to Walker), Sununu went on the defensive. "Look," he pointed out, "if you want to talk about something negative, take a look at the Gingrich news conference in Nevada. There's a guy who absolutely went through a meltdown. If you can't handle the pressure of a bad caucus, how are you going to handle the pressure of being president? And that rambling set of attacks after saying he was going to be positive just shows you the schizophrenic approach that this guy has to the politics of destruction."
"Once again, John is in the attack mode on this program this morning," Walker shot back. "But the fact is that Newt Gingrich answered the questions that the press posed to him. The fact is that we see very little in the way of Governor Romney putting himself out in press conferences like that because he is a candidate that has to be handled because every time he goes out, there seems to be a misstatement to get in trouble."
RELATED: Soledad O'Brien And John Sununu Tangle Over Mitt Romney's Tax Returns
When it came to the economic plans put forth by the two candidates, Walker was quick to point out that the Wall Street Journal called Romney' economic program "timid."
"You guys are going to editorials that are six months old," Sununu responded dryly, noting that people have been "moving towards and supporting" Romney's campaign messages.
"You don't have a good answer to this," Walker countered. "The fact is that the Wall Street Journal is absolutely correct."
Sununu, meanwhile, feels that Gingrich has been "irrational" as a candidate whose press conference amounted to little more than "rambling."
"You haven't made your case," said Walker.
"I didn't have to make it!" Sununu pushed back. "Newt Gingrich made the case."
"No, Newt Gingrich is being very, very clear about where he stands and he is making his case very well," responded Walker. "You've tried to knock him out now in several states and you haven't been able to do it and so
now you're very frustrated about the fact that you can't knock him out."
"He's losing!" Sununu shot back.
Have a look, via MSNBC:
Have a tip we should know? tips@mediaite.com