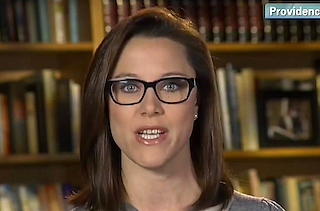 CNN contributor S.E. Cupp was about to deliver up a zinger on CNN's Reliable Sources—something about how MSNBC has no actual conservative viewers to lose over their continued missteps—when the feed cut out.
Cupp, until recently an MSNBC employee, had been speaking to Brian Stelter about MSNBC's tweet last week mocking the right week for being intolerant to biracial families, a tweet for which they quickly apologized.
"Do you think there's a risk some of this devolves into just beating up on each other in the media and people end up tuning it out, or do you think these things do matter and we just have to explain them to people the right way?" Stelter asked.
RELATED: S.E. Cupp: MSNBC Has a Problem That's 'Spiraling Out of Control'
"I think they do matter," Cupp said. "People like Rachel [Maddow] and Chris Hayes and Andrea Mitchell—these are influential, serious people, they're smart, they're influential both within the network and among viewers. This does them no favors. These people have real credibility and currency in the media, and I would think that they'd be as outraged by this and worried about this as conservatives. Look, MSNBC doesn't need to retain conservative viewers. I bet they don't have—"
And that was when the feed froze. What do you think she was going to say?
Watch the clip below, via CNN:
[Image via screengrab]
——
>> Follow Evan McMurry (@evanmcmurry) on Twitter
Have a tip we should know? tips@mediaite.com