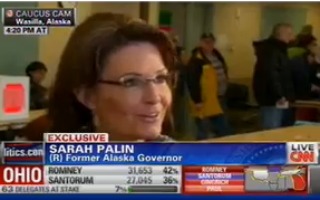 Sarah Palin made an unexpected 7 minute appearance on CNN tonight, popping up on the network's "Caucus Cam" in her home state of Alaska.
Palin, fresh from casting her vote, was asked which candidate she had supported. "I would not tell you," she replied, smiling, "who I voted for in this presidential preference poll." She did, however, give a warm hello to Wolf Blitzer and thanked the CNN crew for covering the Alaska primary.
RELATED: Sarah Palin Demands Obama Super PAC Return Bill Maher's Campaign Donation
When asked what she wants to see in this GOP race, Palin responded that "I want to see the process continue — more debate on who it is that can bust through the Orwellian Obama rhetoric and pandering that we see in the incumbent."
"I do believe the competition makes all our candidates better," she later added.
When asked whether she would seriously consider her own run for president in 2016, Palin said she wouldn't count it out:
Anything is possible for an American! And I don't discount any idea or plan, at this point it isn't in my control. Anything's possible.

I would seriously consider whatever I can do to help our country, to put things back on the right track. Our economy, the foreign policy, proposals that we have to see put forward in order to secure our homeland, and the Americans especially, our brave fighting men and women who are overseas right now in places perhaps we shouldn't be right now. Anything that I can do to help, I will be willing to help.
The issues more important to her right now, she added, is the economy and our military. Later, in response to a question from Blitzer, Palin weighed in on whether there's a double standard for right-wing media personalities, like Rush Limbaugh, where their commentary is concerned. There is definitely, she said, a level of hypocrisy at play.
And it turns out we're not the only ones surprised to see the former Governor — and current Fox News contributor — appear on CNN, of all places. On The Record host Greta Van Susteren — on whose program Palin has been a frequent guest — Tweeted her reaction to seeing Palin on CNN: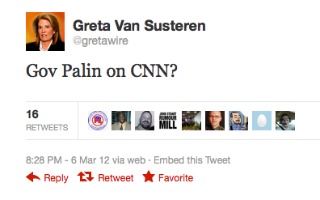 According to TVNewser's Alex Weprin, the camera was placed rather strategically: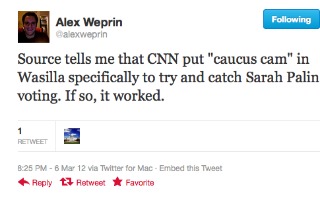 Watch, via CNN:
Have a tip we should know? tips@mediaite.com