Watch: Snuffy The Seal Gets Snuffed In Darkly Comic Discovery Channel 'Shark Week' Promo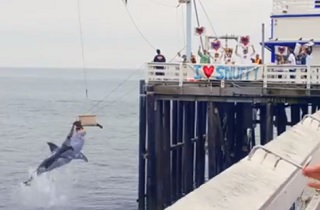 Damn you, headlines! You ruin all the good gags! The Discovery Channel is promoting its already-popular "Shark Week" with an edgy new ad that aims to seal the deal with viewers, if it doesn't make them faint first. The spot opens as a local news report on efforts to free Snuffy the Seal back into the wild, and cuts to a "live" shot of Snuffy being lowered off a pier. Then, in a climax that only Buster Bluth could love, Snuffy's fate is sealed by a surprise guest:
Hollywood Life's Andy Swift notes that, despite the clip's viral popularity, not everyone is clapping their flippers over the ad:
Naturally, Discovery Channel posted the instant viral sensation on its YouTube page — and also naturally, the crazies came crawling out of the woodwork to express their outrage.

"It's not funny people its a dear seal!!!!" says user iamazingicarly.

"Disgusting. Even if this is not real." adds user Eric S. Pizarro.

"I love Shark Week but this ad is in poor taste…" muses user rigbypa.
Other Discovery fans weren't so sympathetic to Snuffy's plight:
Tiffany Desiree Bailey Hehe. RIP, Snuffy. Can't wait for August!

Ginny DiLeo I love seals too but nature is what it is. Shark week is my favorite part of summer
That's cold, Ginny.
Then, there were conflicted reactions from folks like Facebook fan Robert Richardson, who wrote "I LOVED that ad. Awesome. However, my seven-year-old cried for 15 minutes afterward. The ad's definitely not for kids and he won't be watching the ad again. For this adult, however….I can't stop laughing. Am I wrong? In any case, Will be watching in August."
Yeah, maybe this one isn't for the kids.
According to Wikipedia, Shark Week has been broadcast every year since 1987, and has become both a cultural touchstone, as well as shorthand slang for the kind of sensationalistic news coverage that often attends slow news cycles.
Have a tip we should know? tips@mediaite.com