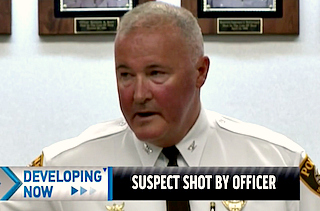 St. Louis County Police Chief Jon Belmar gave a statement Wednesday morning about the fatal shooting of a subject identified elsewhere as 18-year-old Antonio Martin.
Belmar recounted that the officer made a routine business stop at a Mobil gas station at around 11:00 Tuesday night, and that he approached two male subjects while holding a flashlight. He said one subject then pulled a 9-millimeter handgun on the officer, which police say is corroborated by surveillance footage obtained from the gas station.
The officer fired three times, according to Belmar, with one bullet striking the subject, one striking the police car's tire, and a third unaccounted for; he indicated that the subject is not believed to have fired. The officer then "retreated behind some gas pumps" and waited for backup. The subject was pronounced dead at the scene by EMTs.
Belmar said the police have identified two witnesses to the incident but did not give any further details about them. He also called the second subject a "person of interest."
Context:
Significant differences/lessons learned from Michael Brown in way county police handling release of info from last night's shooting.

— Wesley Lowery (@WesleyLowery) December 24, 2014
Chief Belmar says no fewer than 5 times that it's a "tragedy." Notes family of the victim will be without a family member for Christmas

— Wesley Lowery (@WesleyLowery) December 24, 2014
Says EMS was on scene within 30 mins, body was quickly covered. Removed from scene within 2 hours – standard investigative timeline

— Wesley Lowery (@WesleyLowery) December 24, 2014
Shooting was last night – we've got full police narrative, some video footage, and a full q&a presser. Unlike day after Ferguson shooting

— Wesley Lowery (@WesleyLowery) December 24, 2014
Watch the video below, via MSNBC:
[Image via screengrab]
——
>> Follow Evan McMurry (@evanmcmurry) on Twitter
Have a tip we should know? tips@mediaite.com