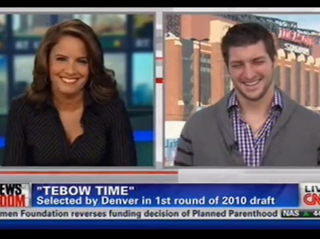 With the Super Bowl approaching, CNN took the opportunity to chat with the biggest star in the sport who won't be playing tomorrow: Tim Tebow, who was gracious and sweet about people criticizing him but appeared a little less prepared to be asked on national television what he looks for in a potential mate. Host Suzanne Malveaux asked him about just about everything– politics, sports, future plans– but the most entertaining part of the interview came when a blushing Tebow found himself answering questions about his love life.
RELATED: Tim Tebow: Running For Office 'Could Be Something In My Future'
In some ways, the chat is a very good primer on how to completely disarm a guarded guest who already seems a little bit nervous about being on a serious news network (and with the news that he may be considering a run for office sometime in the future, the instinct to fear cable news is right on). The interview starts off on a giggly note, with Malveaux noting that "a lot of women are excited to see you in the studio, they are swooning," but teasing that they'll "get back to that later." She then touches on a little bit of everything– Tebow's role models, how confident he feels about his game play, what he thinks of Charles Barkley referring to his success as a "national nightmare." For the record, Tebow really likes Barkley, and doesn't seem to mind at all that he gets poked at by famous people. Malveaux also asks Tebow what it feels like to have your name be a verb, to which he responds that he's just happy he has gotten people to think and talk about prayer. As for what exactly he's praying about? "That I'll never change or treat people differently," he responds.
From prayer, Malveaux then asks about another aspect of his religious existence. "You've said you're saving yourself for marriage… are you dating anybody? A lot of women in this studio want to know." Tebow laughed and took it well, and answered plaining that the answer was no, "I'm just a little busy right now." But in the event that he was thinking about dating someone, what does he look for? Fear not, Malveaux actually asked this and, for the record: "kindness and compassion and has an outgoing personality and somebody who is sweet," which doesn't really answer the question, so Malveaux trudged on, asking about personal vices. This resulted in an extended answer about his sordid love affair with ice cream, his biggest temptation.
Malveaux got him to answer a few questions about politics, too– though not what candidate he would vote for. He noted that he did follow politics "to be a good voter" and considered getting name-dropped in a Republican debate "a pretty big compliment." But he, like many others, is an undecided voter, giving only this clue on who he likes: "a bunch of them are great guys and they handle themselves very well."
Malveaux leaves the most important question in the interview for last: "Who is going to win the Super Bowl?" If you think Tebow gave a straight answer, you haven't been paying attention (though he did acknowledge that he could speak from personal experience that that Tom Brady fellow is pretty good). The whole interview is upbeat and fairly challenging to Tebow without coming even close to being disrespectful, which is pretty rare when it comes to things involving or referencing Tim Tebow.
The interview via CNN below:
Have a tip we should know? tips@mediaite.com