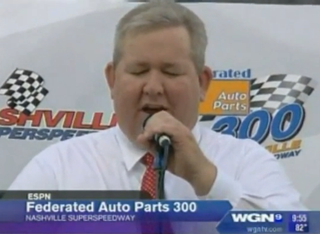 If anyone in the sports world needs a particularly potent prayer before revving it, it's the men and women of NASCAR, and before a race this weekend, Pastor Joe Nelms of Lebanon, Tennessee delivered. "Thank you for the Dodges and the Toyota," the pastor began, blessing every mundane detail in the race– from the fuel to the motors to his "smokin' hot wife" in an invocation for the ages.
The NASCAR Nationwide Federated Auto Parts 300 began with his invocation, in which he went through nearly every brand name in the sport– GM, Sunoco, and a number of individual car brands– employed some racing slang and even took from racing pop culture. In the tenderest and possibly most hilarious part of the prayer, Nelms thanked God for "my smokin' hot wife" and his children, and prayed for a "performance worthy of this great track." "In Jesus' name, Boogity Boogity Boogity, amen," he concludes.
The AP caught up with Nelms for an explanation as to how he got the urge to give such a fun blessing:
"I tried to spice it up a little," Nelms said Monday.

Nelms, 35, pastor at "a small country church," said he believed it was appropriate to have a little fun with the invocation.

"I put in some driver lingo," he said from Destin, Fla., where he was on vacation. "The Bible says laughter is like a medicine, and I wanted people to see that side of religion."

He drew from the stock car-themed movie "Talladega Nights," which he has seen a couple of times.
Proof that all roads really do lead back to Will Ferrell. Watch Nelms' amazing racing invocation via WGN news below:

Have a tip we should know? tips@mediaite.com