Watch the Best of Anthony Bourdain on Television, From the Waffle House to Obama in Hanoi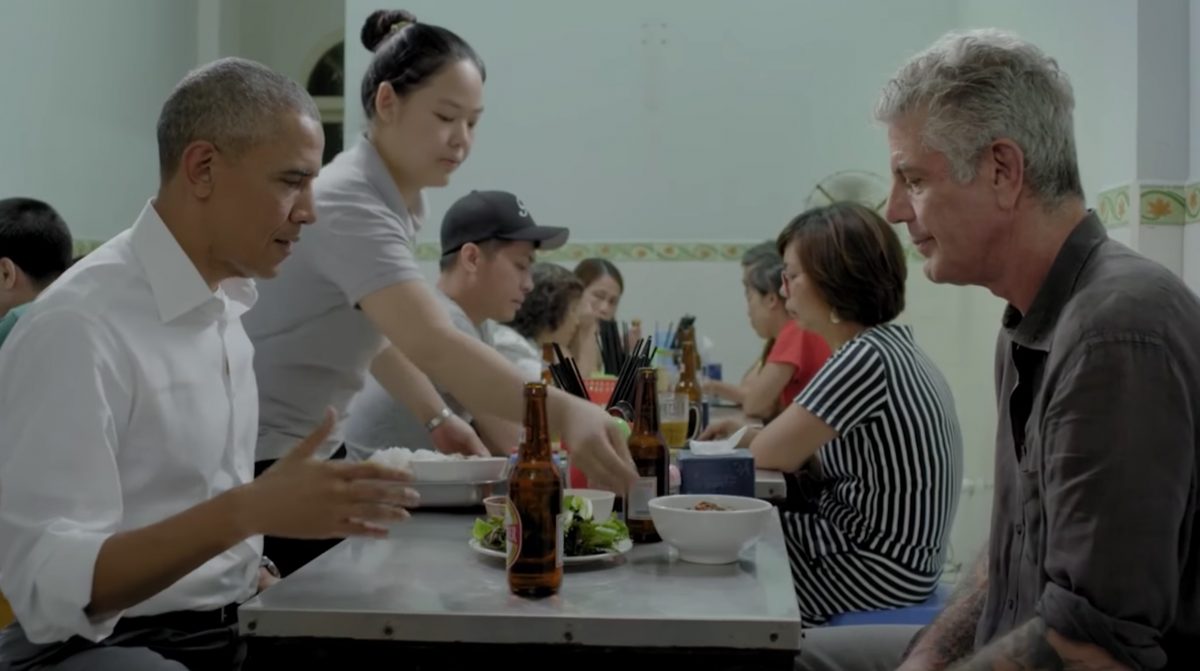 Anthony Bourdain's fame didn't come until he was 44 years old, after working years as a roving chef in grimy New York City kitchens. He went from the buffet table at the Rainbow Room fresh out of culinary school to executive chef at Brasserie Les Halles, with countless back-of-the kitchen gigs in between.
It was while he worked at Les Halles that the chef, then known only locally for his culinary efficiency and fondness for drugs, penned an article for the New Yorker, "Don't Eat Before Reading This." The 1999 piece, which peeled back the curtain on the restaurant industry, inspired the best-selling 2000 book, Kitchen Confidential: Adventures in the Culinary Underbelly — which in turn launched his television career.
"He had spent the first half of his life preparing food to feed others," Patrick Radden Keefe wrote in his recent New Yorker profile of Bourdain. "He would spend the second half getting fed."
Bourdain embarked on a globe-trotting on screen career that brought him from A Cook's Tour on the Food Network (2002-2003), to No Reservations on the Travel Channel (2005–2012), to his last and perhaps best show, Parts Unknown for CNN (2013–2018).
In the wake of news that Bourdain committed suicide on Friday while in France where he was filming an episode of Parts Unknown, many have reflected on his television work — noting its beauty was in crafting an adventurous, unpretentious show in which the food often took a backseat to a story about the world. He was a magnificent storyteller, and used food as a conduit to deliver fascinating insights into foreign cultures with an authentic curiosity that few television personalities could muster.
"I might have deluded myself into thinking that I'd be happy in a hammock or gardening, but no, I'm quite sure I can't," Bourdain said recently about his nomadic career. "I'm going to pretty much die in the saddle."
Oprah Appearance (2002)
After the release of Kitchen Confidential, Bourdain appeared on Oprah with a series of surprising revelations about what's really happening behind the swinging doors of restaurant kitchens. It's just as fascinating and relevant today. Of note: brunch is trash, busboys recycle bread, order hollandaise at your own peril.
His interview with Oprah is just as insightful (every time you eat at a French restaurant, remember that you are also consuming a stick of butter) and a glimpse of a TV star at the inception of his career.
Parts Unknown: Sichuan Province (2016)
For this episode of Parts Unknown Bourdain ventured to the Sichuan province in Southwest China, accompanied by his friend, fellow celebrity chef and owner of venerable French restaurant Le Bernadin, Eric Ripert.
Ripert, who had never been to China, was (partly) along for the ride for the comical effect of putting his delicate French palette up against the fiery local cuisine. "His discomfort," Bourdain said, reveling in it, "can be exquisite."
No Reservations: Beirut (2006)
The 2006 Beirut episode of No Reservations — filmed as the conflict between Lebanon and Israel erupted – is the one that, in Bourdain's words, "changed everything."
"My crew and I are sitting there emptying the mini bar and we look out the window, and the airport blows up," he said. His crew was stranded in Beirut for a week before they were able to make their way home. "Basically we stood there and watched whole neighborhoods getting blasted."
"The most immediate effect," Bourdain said, "was it gave us license to wander away from food." Bourdain's shows since, particularly Parts Unknown, were all about more than food. Food is instead used as a vessel — a very pretty one, no doubt — to tell bigger stories about the countries he visited.
Parts Unknown: Jerusalem, West Bank, Gaza (2016)
No episode of was as emblematic of Bourdain using a food-travel show to uncover broader truths about the world than when the chef took Parts Unknown to Jerusalem, the West Bank and Gaza. Bourdain, whose mother was Jewish, took a tour of the Old City in Jerusalem with famed chef Yotam Ottolenghi and enjoyed Palestinian delicacies in Gaza.
He received an award from the Muslim Public Affairs Council for the episode, and delivered a searing acceptance speech. "The world has visited many terrible things on the Palestinian people, none more shameful than robbing them of their basic humanity," he said.
Parts Unknown: Obama in Hanoi (2016)
Bourdain sat down with President Barack Obama for the host's favorite style of meal: "Low plastic stool, cheap but delicious noodles, cold Hanoi beer."
The pair leant over heaping bowls of noodles at a brightly-lit, family-run shop in the middle of the Vietnamese capital, and Obama doled out wisdom. Traveling, he said, "confirms the basic truth that people everywhere are pretty much the same."
"We shouldn't be sitting in a banquet room at the Hilton," Bourdain told CNN's Anderson Cooper about planning the episode. "We should do what we do, which is hang out in some working class place."
"Total cost of Bun cha dinner with the President: $6.00," Bourdain noted on Twitter the day after. "I picked up the check."
No Reservations: Paris (2005)
The episode, his first for No Reservations, is quintessential Bourdain. It starts out in black and white, "the way I wanted the show to work," Bourdain narrated. Color kicks in, in accordance with the whims of higher network powers, which to be honest makes for a better view. Bourdain proceeds to chain-smoke and binge on absinthe throughout the gorgeous 40 minute episode, showing off the best of Paris food, from fresh markets to "blue collar bistro" Chez Denise in Les Halles.
Parts Unknown: Bourdain Goes to the Waffle House (2015)
And then of course, there is the episode in which Bourdain goes to the Waffle House.
"It is indeed marvelous," Bourdain said. "An irony-free zone where everything is beautiful and nothing hurts. Where everybody — regardless race, creed, color or degree of inebriation — is welcomed. Its warm yellow glow, a beacon of hope and salvation, inviting the hungry, the lost, the seriously hammered all across the south to come inside to a place of safety and nourishment."
"It never closes, it is always. Always faithful, always there, for you."
[image via screengrab]
—
Follow Aidan McLaughlin (@aidnmclaughlin) on Twitter
Have a tip we should know? tips@mediaite.com
Aidan McLaughlin - Editor in Chief