Watch the Openly Gay GOP Congressional Candidate's Ad the WSJ Describes as 'Landmark'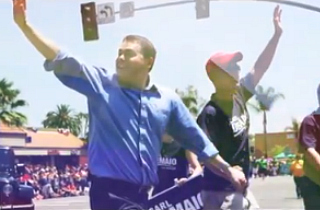 Openly gay Republican Carl DeMaio isn't just a long-shot running for Congress in California; he's garnered monetary and/or vocal support from party bigwigs like Reps. Eric Cantor and Kevin McCarthy. His first campaign ad features a shot of him with his same-sex partner, a move that the Wall Street Journal describes as "landmark."
DeMaio isn't the only openly gay Republican running for Congress in this midterm election. Dan Innis in New Hampshire and Richard Tisei in Massachusetts are both attempting to unseat Democrats on the path to Washington, D.C.
The ad, released publicly on Thursday, shows DeMaio marching with partner Johnathan Hale in a recent gay pride parade. In another shot, DeMaio proudly waves the rainbow flag that has come to symbolize the LGBT movement.
The WSJ spoke to campaign officials and campaign ad trackers who suggested this will mark the first time a major candidate for either party has aired an ad featuring a gay partner. "This is who I am," DeMaio told the newspaper. "It's something that's important to me. I want to embrace equality, and feel like the party should, too."
The party, however, expects some opposition from powerful organizations like the National Organization for Marriage (NOM), who recently criticized DeMaio as "a trophy candidate [the GOP] can point to and say to the media, 'See, we're progressive, too. We've evolved.'" The group's president, Brian Brown, indicated that NOM intends to run anti-DeMaio ads before the June 3 primary in order to boost a more conservative GOP rival.
The candidate doesn't intend to provoke with the ad, and has stated that he hopes getting his homosexuality out of the way at the beginning will allow voters to focus on his actual policy solutions on a variety of pressing issues.
DeMaio's media adviser is currently Richard Grenell, the former Romney 2012 spokesman who resigned after groups like the American Family Association raised a fuss about his open homosexuality.
Watch the ad below:
[Image via screengrab]
— —
>> Follow Andrew Kirell (@AndrewKirell) on Twitter
Have a tip we should know? tips@mediaite.com