Watch This Kid Hijack CNN's Important Kim Kardashian Live On-Location Report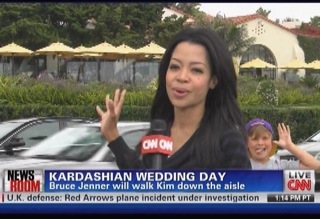 A CNN reporter unfortunate enough to have been sent to report live on location at some sort of street relevant to the wedding of sex tape/reality TV character Kim Kardashian probably already had it bad enough when prompted to deliver exciting news about this momentous affair. Her coverage became viral video material, however, as a child played the cruel but classic television trick of standing behind her for almost a minute, waving, making faces and generally distracting from the solemn news that the middle Kardashian child will officially be off the market today.
You really have to feel for Kareen Wynter, the reporter sent out to explain how Kardashian will go by "Mrs. Humphries" at home (apparently this is her husband's name) and People magazine paid more than a million dollars for exclusive rights to wedding photos in this economy. And for those of you worried about poor Bruce Jenner, yes, he will get the dubious privilege of being the first to walk Kardashian down the aisle.
Thanks to the perils of live news shots, however, the otherwise Tim Pawlenty-level excitement factor of this story was eclipsed by the breakout star of the live shot circuit this year, this young child we estimate to be about 12 years old, who looks like he could star in a Little Rascals remake and has the patience of a praying mantis. He stands there for a good minute or so, sticking his tongue out, cheering, and just plain looking happy to be there. Wynter is completely oblivious to what is happening behind her, and it is never spoken of or acknowledged by the network afterwards (though we can assume off-camera that some parent out there is getting an earful).
The bizarre live TV moment via CNN below:

Have a tip we should know? tips@mediaite.com