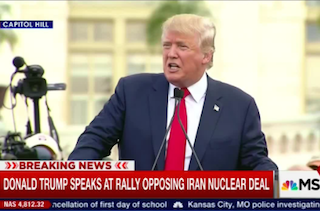 Speaking for an uncharacteristically short five minutes at today's anti-Iran nuclear deal rally in Washington, D.C. on Wednesday, Donald Trump briefly touched on his opposition to the agreement before launching into a more general stump speech about what a fantastic president he will be.
"I've been doing deals for a long time," Trump said at the top of his remarks. "I've been making lots of wonderful deals, great deals, that's what I do. Never, ever, ever in my life have I seen any transaction so incompetently negotiated as our deal with Iran."
"If I win the presidency, I guarantee you that those four prisoners are back in our country before I ever take office," Trump said of the four American citizens currently being held in Iran. "I guarantee that. They will be back before I ever take office because they know that's what has to happen, OK? They know it. And if they don't know it, I'm telling them right now."
Soon, Trump had moved on to a more general denunciation of the "very, very stupid people" who currently run the United States. "We will have so much winning if I get elected that you may get bored with winning, believe me," he said. "I agree, you'll never get bored with winning, we never get bored!"
"We are going to turn this country around," Trump continued, now in full campaign mode. "We are going to start winning big league on trade, militarily. We're going to build up our military. We're going to have such a strong military that nobody, nobody is going to mess with us. We're not going to have to use it."
And just like that, he delivered his campaign slogan, "We are going to make America great again" and left the stage.
Watch video below, via C-SPAN:
[Photo via screengrab]
— —
>> Follow Matt Wilstein (@TheMattWilstein) on Twitter
Have a tip we should know? tips@mediaite.com