WATCH: U.K. Snob Who Proudly Judges Kids By 'Working Class' Names Torn Apart By Piers Morgan, TV Hosts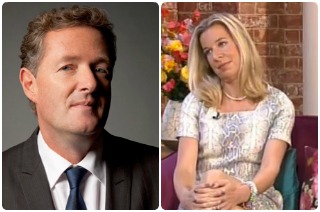 There may be no more potent reminder of why Americans should be thankful this Fourth of July weekend than the following clip. Nothing will make you happier to live in an egalitarian meritocracy than upper crust English women harping on about the lower classes.
CNN's Piers Morgan took to his Twitter account on Friday to draw attention to an enchanted clip from the British Isles in which former U.K. Apprentice star Katie Hopkins exposes herself as an unashamed elitist when she berated children with what she determines to be "working-class names" on national television. Fellow guest, Anna May Mangan, tore Hopkins to shreds after this assertion, noting that her first name is indicative of her Irish heritage which led her classmates to exclude her from social activities.

Hopkins began her ill-informed rant by asserting that she more often hears lower class parents screaming after their equally lowborn children. Most often, she says she hears those parents screaming a name like "Tyler" as opposed to the nobler "Monty" or "Ileana."
"A name for me is a short-cut – it's a more efficient way — of working out what class that child comes from, do I want my children to play with them," Hopkins added.
"So, if you then, from that you go, 'Okay, they're in a lower class than I am,' why would you not want your child to play with them?" asked host Holly Willoughby.
Hopkins said that its clear that, based on their name, it is more likely that this child does not do their homework and is a disruptive element. "I think children that have intelligent names tend to have fairly intelligent parents," she asserted.
"This is snot-worthy, Katie," Mangan retorted dispassionately. "I just cannot believe that you're such an insufferable snob."
Mangan went on to quietly dismember Hopkins for her unabashed advocacy of a bygone era of classicism by birthright. Mangan added that she suffered from a similar discrimination because of her name in her youth.
Despite being confronted with a number of world-class academics with names she abhors, Hopkins stuck to what she insisted was her honestly obtained low opinion of those people based on their names.
Beyond her ignorance, Hopkins is evidently also a hypocrite. She said that she does not like children with geographical names like "London" or "Brooklyn," though her child is named "India."
Credit is due to the commentators on this program who engaged with this parody of a human being as though she deserved to be taken seriously. For my part, Morgan got it right: Hopkins is little more than a "poisonous snob."

On a side note, every morning show programmer should watch this clip and emulate the format –highly interactive, unvarnished debate, and a compelling structure.
> >Follow Noah Rothman (@NoahCRothman) on Twitter
Have a tip we should know? [email protected]