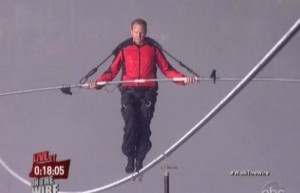 If you forgot Niagara Falls was a thing that existed, you may have heard about a guy bringing some much-needed attention to the tourist attraction through a death-defying highwire act. Nik Wallenda, descendant of the circus act The Flying Wallendas, tightroped across Niagara Falls earlier tonight and managed to make it all the way across. The event was broadcast live on ABC.
In 2008, Wallenda broke a high-wire record when he walked and bicycled on a tightrope high above the buildings in Newark, New Jersey. Today he embarked on a far more arduous trek: walking across a tightrope over Niagara Falls.
ABC insisted that Wallenda wear a safety line, and basically told Wallenda that if he unhooks it at any point, they would stop broadcasting the stunt. (Buzzkills.) Wallenda initially fought with ABC over this, but eventually relented and promised he would only unhook the line if instructed to do so by his father, acting in the role of his safety coordinator. However, Wallenda has publicly admitted that he's not exactly happy with the decision and is only going along with what ABC wants because "he needs [their] financial support" for the event.
Wallenda is not the first person to attempt such a stunt at Niagara Falls. In 1859, Jean Francois-Gravelet (a.k.a. The Great Blondin) walked across a narrower part of the falls on a high wire. According to ABC's Josh Elliott, hundreds of thousands of gallons of water will be falling hundreds of feet down on a scale of over 70 miles per hour.
Watch the video below:
Have a tip we should know? tips@mediaite.com
Josh Feldman - Senior Editor