Wolf Blitzer's Voice Cracks with Excitement Over Russian Resolution to Syria Crisis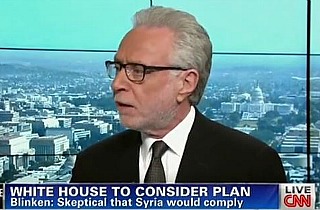 On Monday, two of the four hosts of CNN's Crossfire joined anchor Wolf Blitzer to discuss the Russian government's offer to resolve the Syrian crisis by supervising the surrender of Bashar al-Assad's chemical weapons stockpiles into international control. Blitzer emphatically described the prospect of Moscow resolving the rapidly escalating Syrian crisis as "huge" for President Barack Obama.

On Monday, the Russian and Syrian governments accepted what appeared to be an accidental suggestion by Secretary of State John Kerry to postpone hostilities if Assad surrenders his chemical weapons. Though the statement appears to have been hypothetical, the Damascus and Moscow jumped at the opportunity to resolve the Syrian crisis without the threat of war.
RELATED: Did John Kerry Just Accidentally Solve the Syrian Crisis, or Fumble It?
The Crossfire hosts agreed that a theoretical resolution to the Syrian crisis administered by Moscow could help the Obama administration save face. CNN host Newt Gingrich said that Obama could secure an "enormous victory" if Assad were to surrender his chemical arms to the international community.
Blitzer agreed. "If that were to happen, if the U.N. Security Council were to pass a resolution with Russian and Chinese support for that, the president could legitimately say thank you very much," Blitzer said. "It was the threat of U.S. force. Bashar al-Assad was so nervous about the fact of going down in the face of U.S. pressure, he agreed to destroy his weapons stockpile."
CNN host Van Jones said that such a resolution would play out like an "episode of the West Wing." He said that, even if Kerry accidentally floated this resolution to the crisis, the world should pursue it as a means of averting war.
"Right now, the only hope is this possible misstatement by John Kerry," Jones said.
"Does the president now take into account the possibility that you could actually have a diplomatic solution that is better than anything he had thought of?" Gingrich asked.
"Not only deferring and degrading. that would potentially be eliminating Syria's chemical weapons stockpile," Blitzer said emphatically. "That would be a huge political diplomatic, national security win for the U.S., right? The president would have to deserve a lot of credit for that."
Watch the segment below via CNN:
[Photo via screen grab ]
— —
> >Follow Noah Rothman (@NoahCRothman) on Twitter
Have a tip we should know? tips@mediaite.com