'We Are F*cking Powerless!': Stewart Laments Obama's–And Every Other President's–Failure In Middle East
'We Are F*cking Powerless!': Stewart Laments Obama & Every Other President's Failure In Mideast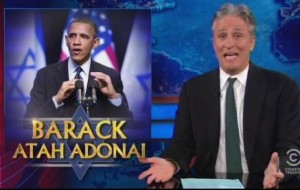 After a long two weeks off the air, The Daily Show returned Monday night and with so many outstanding stories to choose from, the show could have started off in any number of directions. In honor of the first night of Passover, it was only fitting that Jon Stewart took on President Obama's eventful trip to Israel last week.
Referring to another story that sadly occurred while the show was on vacation, Stewart noted, "obviously this wasn't his first trip to Israel. He was also, we know from The History Channel, there about two thousand and thirteen years ago as, oh I don't know, Satan?"
After a brief detour concerning matzoh, Stewart moved on the more serious content of Obama's visit, but didn't offer his speech on the Israeli-Palestinian peace process quite as much praise as Wolf Blitzer did. In fact, he played a montage of former presidents making very similar statement to little effect. "We are fucking powerless!" Stewart exclaimed.
For more, Stewart turned to to Senior Middle East Correspondent Aasif Mandvi, who helped explain the region's reaction to the apology President Obama brokered from Israel to Turkey after the 2010 attack on a Turkish flotilla bringing aid to the Gaza Strip. "Maybe somehow Obama felt like he had to solve the Israel-Turkey thing before he could dig down into the six-layer Turfucken that is the Middle East peace process." Happy Passover, everyone!
Watch video below, via Comedy Central:
—
>> Follow Matt Wilstein (@TheMattWilstein) on Twitter
Have a tip we should know? tips@mediaite.com