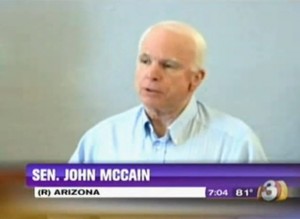 Senator John McCain has a theory on what might be responsible for the series of fires plaguing over 700,00 acres in Arizona: Undocumented immigrants who, he informed explained in a press conference over the weekend, routinely "set fires because they want to signal other, they set fires to keep warm, and to divert law enforcement and agencies." McCain added that there is "substantial evidence" supporting this, yet would not elaborate on what this evidence might be. Thus, he concluded, a secure border would help make America a place less plagued by the occasional bout of hellfire.
McCain's office released a statement today regarding his statements:
The facts are clear. For years, federal, state and local officials have stated that smugglers and illegal immigrants have caused fires on our southern border. During the press conference on Saturday, Senator McCain was referring to fires on the Arizona/Mexico border, not the Wallow Fire.
A U.S. Forest Official, however, told ABC News that he is not aware of any evidence linking undocumented immigrants to the Arizona fires. Tom Berglund said that while the cause of the fire does indeed seem to be "human" – most likely a campfire that went out of control – he believes there is "no evidence that I'm aware, no evidence that's been public" indicating immigrants are to blame.
Latino groups have taken issue with McCain's assessment. Angelo Falcon, president of the National Institute for Latino Policy, emailed CNN saying that, with McCain's lack of evidence, "he might as well also blame aliens from outer space for the fires."
Listen to McCain's statement in this clip from a local Arizona new station:
Have a tip we should know? tips@mediaite.com