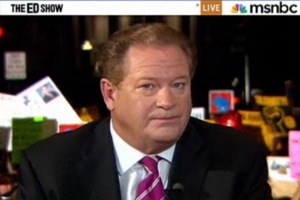 Just three days after moving into his new time slot, Ed Schultz dropped to fourth place in the 25-54 year-old demo at 8 p.m. on Wednesday, falling behind Bill O'Reilly, Anderson Cooper, and Nancy Grace. The 178,000 viewers he attracted in the demo at 8:00 also registered as the lowest-rated show on MSNBC that night. Schultz even lost to his repeat at 11:00, which drew 209,000 viewers and finished second in the time slot (again, behind O'Reilly). The man who swapped spots with Schultz and took his slot at 10:00, Lawrence O'Donnell, had MSNBC's highest demo ratings of the night, attracting 278,000 viewers.
Other nuggets from the Wednesday night schedule:
Cooper's 205,000 viewers in the demo gave CNN a second-place finish at 8 p.m., its only finish not in third or fourth all night.
In intra-FOX news, Sean Hannity pulled in 620,000 viewers, dangerously close to O'Reilly's 625,000.
MSNBC finished in second place in every time slot except for 8 p.m., when Schultz ranked fourth. To his credit, Schultz had the highest amount of total viewers for any non-FOX show. And he was one of only two non-FOX shows to pull over one million total viewers on the night (the other was Rachel Maddow).
A day after pulling in a miserable 67,000 viewers in the demo at 7 p.m., Erin Burnett jumped over Jane Velez-Mitchell into third in the time slot, scoring 144,000.
Here are the complete cable news ratings for Wednesday night:
TV NEWS RATINGS: 25-54 DEMOGRAPHIC (L +SD)
5 pm
The5

328

Blitzer

127

Matthews

180

Special

92

6 pm
Baier

357

King, USA

122

Sharpton

198

Prime

146

7 pm
Shep

354

Burnett

144

Matthews

194

Issues

110

8 pm
O'Reilly

625

Cooper

205

Schultz

178

Grace

187

9 pm
Hannity

620

Piers

213

Maddow

251

Dr. Drew

182

10 pm
Van Susteren

482

Cooper

235

O'Donnell

278

Behar

166

11 pm
O'Reilly

500

Burnett

145

Schultz

209

Showbiz

132

TOTAL DAY
302
134
138
106
PRIME TIME
577
217
237
178
Data by Nielsen Media Research. Live and same day (DVR) data.
TV NEWS RATINGS: TOTAL VIEWERS (L +SD)
5 pm
The5

1,546

Blitzer

520

Matthews

775

Special

360

6 pm
Baier

2,129

King, USA

380

Sharpton

716

Prime
403
7 pm
Shep

1,836

Burnett

489

Matthews

820

Issues

395

8 pm
O'Reilly

3,390

Cooper

564

Schultz

1,029

Grace

612

9 pm
Hannity

2,507

Piers

670

Maddow

1,025

DrDrew

670

10 pm
Greta

1,874

Cooper

631

O'Donnell
970
Behar

584

11 pm
O'Reilly

1,307

Burnett

388

Schultz
549
Showbiz

417

TOTAL DAY
1,218
415
472
320
PRIME TIME
2,595
621
1,009
617
Data by Nielsen Media Research. Live and same day (DVR) data
Have a tip we should know? tips@mediaite.com