Weiner Admits Recent Sexting, 'Hopes' New Yorkers Still 'Willing To Give Him Second Chance' In Press Conference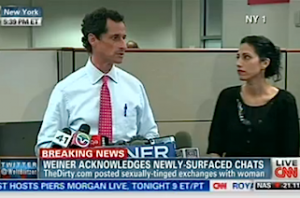 New York mayoral candidate and former Democratic congressman Anthony Weiner was forced to hold a press conference Tuesday afternoon to address new sexually-explicit messages exposed by TheDirty.com earlier today. He admitted that he continued to conduct online relationships with women after his resignation from Congress and said he "hopes" New Yorkers are "still willing to give me a second chance."
Weiner began, with his wife Huma Abedin standing beside him, by simply reading the written statement from his campaign, in which he apologized, saying, "While some things that have been posted today are true and some are not, there is no question that what I did was wrong." The then elaborated on on his indiscretions and reiterated "how sorry" he is to his wife and others he hurt with his actions.
Addressing the timeline of the newly-released message, Weiner said "some of these things happened before my resignation, some of them happened after, but the fact is that that was also the time that my wife and I were working through some things in our marriage."
"I know this was a very public thing that we had happen to us," he continued, "but by no means does it change the fundamentals of my feelings here, and that is that I want to bring my vision to the people of the city of New York. I hope they're willing to still continue to give me a second chance, and I hope they realize that in many ways what happened today was something that, frankly, had happened before but it doesn't represent all that much that is new."
When Weiner had concluded his remarks, Abedin stepped up to the mic and delivered a statement of her own, marking the first time she has spoken in a press conference setting about the issues with her husband. "Our marriage has had its ups and downs," she said. "It took a lot of work and a whole lot of therapy" to get through the difficulties.
Ultimately, she said she decided it was "worth it" to stay in her marriage, both for herself and her young son. "I love him, I have forgiven him, I believe in him, and as I've said from the beginning, we are moving forward."
Weiner took questions from reporters, saying his wife knew of his indiscretions all along after his resignation and repeated that he never denied more embarrassing material about him could come out. "It's in our rear view mirror, but it's not far. We still work every day on it." He added, "Frankly, we're in a lot better place today or I would not have run for mayor."
As of last week, Weiner was leading in polls for the Democratic primary to replace New York City Mayor Mike Bloomberg.
Watch video below, via CNN:
—
>> Follow Matt Wilstein (@TheMattWilstein) on Twitter
Have a tip we should know? tips@mediaite.com