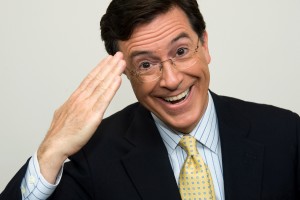 The Federal Election Commission has officially approved Stephen Colbert's SuperPAC, allowing him to create independent advertisements and raise unlimited campaign donations in the 2012 election cycle.
Colbert's quest to form a political action committee began in March, after lampooning an ad for Tim Pawlenty's Freedom First PAC, with the satirical slogan "Making a better tomorrow, tomorrow." Every time he covered the latest on his PAC, Colbert brought Trevor Potter, former FEC chairman, on the program to explain campaign finance law to him and his audience. When Viacom initially expressed concern that Colbert could cause unnecessary financial scrutiny, they sent him a letter asking him to stop. Luckily for Colbert, he discovered a loophole that allowed him to set up a Super PAC (groups that have existed since the Citizens United ruling), and filed a formal request with the FEC for a media exemption in May.
Some campaign finance advocates are worried that Colbert's stunt could backfire and act as a precedent for other television hosts to give an undisclosed amount of donations to political candidates. The Campaign Legal Center and Democracy 21 both asked the FEC to keep in mind the real-world consequences of Colbert's actions:
Granting the exemption would produce what the reformers called "a sweeping and damaging impact on disclosure laws," which would allow media companies to fund employees' political activities anonymously. Politicians who are employed by media companies could use their television shows as platforms to raise unlimited funds for their PACs, without having to disclose it, the reform groups said.

Additionally, those media companies would be allowed to anonymously pay for independent expenditure ads for those PACs, which could then be played on other networks and shows, as well as online. Media companies (Including Fox News, which employs several political figures associated with super PACs) could fund the administrative costs of their employees' PACs, without having to disclose that donation.

"Mr. Colbert's ultimate goals here may be comedic," the reformers wrote. "But the commission should not be the straight man at the expense of the law."
According to National Journal, the FEC commissioners voted to let Colbert run the PAC by a 5-1 margin, but any advertisements created through the PAC could only be aired on The Colbert Report.
Watch Stephen's recap on last night's Report of the upcoming decision:
Have a tip we should know? tips@mediaite.com
Josh Feldman - Senior Editor