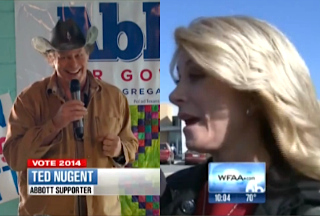 Texas Attorney General and Republican gubernatorial candidate Greg Abbott has been under fire — from CNN's Wolf Blitzer and others — for campaigning alongside rocker Ted Nugent, who recently referred to President Barack Obama as a "subhuman mongrel." Now, one of Abbot's potential Democratic opponents, State Senator Wendy Davis, is speaking out against their alliance.
"I think the fact that Greg Abbott is embracing those values is repulsive. And that Texans should consider it and will consider it," David told Dallas' ABC affiliate WFAA. Regarding comments Nugent has made about women in the past, she added, it's "an insult to every women in in Texas and it should be an insult to every man, father and husband and son."
RELATED: Ted Nugent Likens CNN to Nazi 'Propaganda'
David expanded on these remarks in an email to supporters Wednesday, quoted in part below, via DailyKos:
When I read what Ted Nugent has said about women, I was outraged.
Greg Abbott feels differently. His values allow him to embrace an admitted predator who takes advantage of young girls, calls successful women vulgar and disgusting names, and demeans and degrades not just the women of Texas, but anyone who disagrees with his narrow-minded, disrespectful point of view.

If this is Greg Abbott's idea of good Texas values, it's simply repulsive.

Greg Abbott calls Ted Nugent a "fighter for freedom." Ted Nugent calls Greg Abbott his "blood brother." I call their alliance repulsive. This is an issue for every father, every mother, and every family in Texas.

We will not allow the women of Texas to be treated like this. Help me fight back. Contribute $5 right now to show Greg Abbott and Ted Nugent that their values aren't Texas values.

I won't mince words — I find Ted Nugent disgusting. And I find it disgusting that Greg Abbott is sharing a stage with him.

But this isn't just about my feelings. Every Texan should be offended by Greg Abbott's decision to make a predator the new face of his campaign.

Campaigning with a vile character like Ted Nugent is a window into Greg Abbott's character. And we need to show him that we won't tolerate it.
Nugent was scheduled to appear on CNN's Erin Burnett OutFront Wednesday evening to respond to the criticism he has been receiving of late, but decided to cancel at the last minute citing sickness.
Watch video below, via WFAA:
[photo via screengrab]
— —
>> Follow Matt Wilstein (@TheMattWilstein) on Twitter
Have a tip we should know? tips@mediaite.com