'We're All On The Line': Fox & Friends Goes After Obama For Syria, 'All Over The Place' Foreign Policy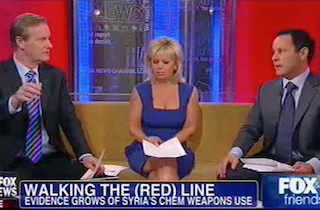 Fox & Friends started off the week with a discussion with a discussion about Syria, its apparent use of chemical weapons, and President Obama facing the red line he drew for himself. The hosts disagreed with each other about whether and how the United States should intervene. Going after Obama, they questioned whether his actions would back up his "tough talk."
Asking what would happen if we didn't take any action, Steve Doocy and Gretchen Carlson posited that it could be an "international test" on Syria's part. They could be testing the waters, seeing how the rest of the world, and President Obama, will react.
As the crew went on to note that many are saying we should do something without knowing exactly what, Brian Kilmeade asked, "What is the message to North Korea? What is the message to Iran?" If we don't respond, he asserted, it'll be a "field day" for those two countries.
Kilmeade further pointed to the White House response said they were looking further into the situation to confirm the use of chemical weapons, and countered it by noting we've been given exact dates of chemical weapon use. "The red line has been there, they have been crossed," he pressed. "Now the administration is forced to back up the tough talk. We're all on the line."
"The foreign policy seems to be all over the place," Carlson interjected, noting the difference between how we dealt with Libya and how we're dealing with Syria.
Conversely, Doocy added, "U.S. intervention costs a lot of money. Do we really want to be spending a lot of money when so many people are out of work?"
A "dual-edged sword," Carlson noted.
Take a look, via Fox News:

Have a tip we should know? tips@mediaite.com