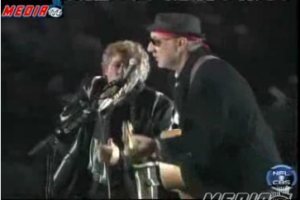 If you love The Who and are old enough to remember how awesomely groundbreaking they were — not to mention guitar-breaking — then you will just love the 2010 Superbowl Half-Time Show, even if it is the Doritos Half-Time show (and I'm pretty sure that group that recorded "The Who Sell Out" would have found that pretty ironic). Kicking off with the iconic opening strains of "Pinball Wizard" they segued a little clunkily to "Baba O'Riley," singing emphatically of the Teenage Wasteland as only middle-aged rockers can. But who cares — Roger Daltrey may not have the free-flowing blonde locks and rockin' bod that so enticed Cousin Kevin and the Acid Queen and made me go all melty during "I'm Free," but damn can they still put on a show, and Pete Townsend wailing on the mic gave me a little thrill.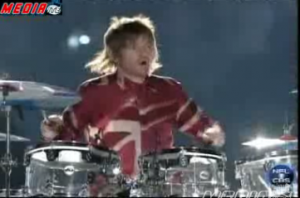 One more clunky segue later and they were doing "Who Are You" — eh, I could take or leave that one, though CBS clearly couldn't — and then segued abruptly again — really! — into "See Me/Feel Me" briefly from Tommy, before it was on to "Won't Get Fooled Again" — hey! "Meet the new boss, same as the old boss" sorta reminds me of that Leno-Letterman deal with the devil! (Oprah?) — and they rocked on, getting on their knees to pray — at least metaphorically, as to literally do so probably would have been a little rough on the old back and knees, eh old timers? Even so — amid the flashing lights and super-stadium pyrotechnics, there was a real honest-to-goodness rock concert, and the reminder of what "Won't Get Fooled Again" once meant. It should be noted that no one from The Who had to read anything off their hand.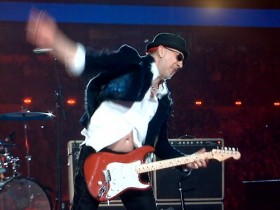 I would have liked something a bit more fresh and unpredictable — a little "Squeeze Box," "Magic Bus," "Boris The Spider," just to totally confuse the Millennials, and hello, did will.i.am have a monopoly on "My Generation?" Sheesh — but overall, this was a great show. NB: The drummer is obviously not Keith Moon (RIP) — it's Ringo Starr's son Zak Starkey who now qualifies as their longtime drummer since he's been with them since 1994.
p.s. To quote one of my fave blogs, In Other News, this is this year's version of a Super Bowl wardrobe malfunction. (Look left.) Thank goodness all around — both for visuals, and for music. Sorry, but Janet Jackson plus Justin Timberlake could not hold a candle — even before the nipple.


Photo via.
Have a tip we should know? tips@mediaite.com