'We're Dancing on Deck of the Titanic': Touré Kills Co-Hosts' Snow Buzz with 'Heavy' Climate Change Rant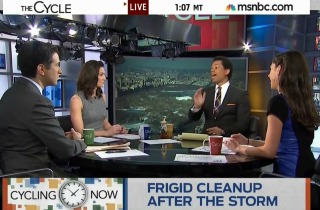 On Wednesday, the hosts MSNBC's The Cycle were engaging in a lighthearted discussion about the joys of snowfall and how childhood memories come flooding back when the frozen precipitation begins to pour. That jovial conversation did not sit well with Touré who shut that conversation down and chided his colleagues for "dancing on the deck of the Titanic" by failing to fret sufficiently about how climate change is to blame for extreme weather events.

After a winter weather report, MSNBC hosts Krystal Ball and Abby Huntsman reveled in their happy childhood recollection about snow and how freezing weather events bring them back to that carefree time.
Touré was having none of it. "I'm sorry," he began. "I can only do so many fun, awe-struck stories about the weather and the extraordinary weather events without saying this is because of climate change."
"And we don't talk about it enough," he continued. "When a quarter of America thinks these are not caused by human activities."
"When we act like all this is fun, you know what we are doing?" he concluded. "We're dancing on the deck of the Titanic."
His co-hosts were silenced by their colleague's effective buzz-killing. "That was a pretty heavy comment," Ball finally replied.
"I'm sorry, but it's true," Touré insisted. "We did a fun segment on it yesterday, and I played along. But then, like, again? I can only do this fun so many times."
Ball protested that her recollections of childhood sledding adventures were somehow "dancing on the deck of the Titanic."
Watch the clip below, via MSNBC:
[Photo via screen grab ]
— —
> >Follow Noah Rothman (@NoahCRothman) on Twitter
Have a tip we should know? tips@mediaite.com