Were Jerry Seinfeld and Jason Alexander Actually Filming a Super Bowl Ad at Tom's Restaurant?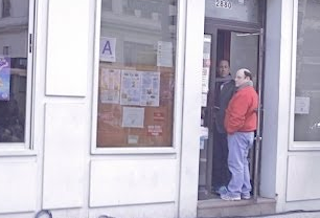 Three days after a photo of Jerry Seinfeld and Jason Alexander casually walking into the iconic diner from Seinfeld nearly broke the internet, new theories are emerging as to what exactly they were filming inside. Word on the street is that bystanders were witnessing the shooting of an upcoming Super Bowl XLVIII commercial in action.
At first, the assumption from most media outlets, including this one, was that Jerry and Jason were filming an episode of Seinfeld's web series Comedians in Cars Getting Coffee. Sure, the Costanza costume didn't make total sense in that context, but stranger things have happened (like Michael Richards wearing a blonde wig in his episode of the series).
When Larry David was spotted on the scene, speculation turned to the "big, huge, gigantic" collaboration Seinfeld teased in a recent Reddit AMA. But when David revealed the super-secret project was a potential Broadway play, that theory went out the window as well.
Which brings us to the Super Bowl ad theory. TMZ reported that one member of the crew told them it was a Super Bowl commercial, while another said it was for Comedians in Cars. When one of the reporters on the street asked Seinfeld directly if he was filming a Super Bowl ad, the comedian replied simply, "Top secret."
The intitial photo, posted to Twitter by Ali Phil, shows Seinfeld and Alexander walking side-by-side with the latter wearing what appears to be a George Costanza costume.
Gian Franco Morini, who is currently directing the documentary Tom's Restaurant – A Documentary About Everything was on the scene Monday and shared some additional details with Mediaite that support the idea that they were shooting a Super Bowl ad.
For one, they had closed down the diner to regular patrons, which is not typical of Comedians in Cars, in which Seinfeld and a comedian friend simply show up to a coffee shop during regular business hours. Secondly, there was a snow machine running outside the windows, which would not make sense for the reality-based web series. Finally, Morini told us, Alexander did several takes walking into the restaurant with what looked like a pastry or cake box, again not something that would happen if the two men were just talking comedy and drinking coffee.
We will mostly have to wait until Super Bowl Sunday to find out if Seinfeld and Alexander really are starring in an elaborate Seinfeld-themed ad (unless they release some sort of teaser in advance). It was two years ago that Seinfeld starred in a huge Super Bowl spot for Acura along with Jay Leno. That car company has maintained its relationship with Seinfeld as the exclusive sponsor of Comedians in Cars Getting Coffee, so it would not be surprising for them to team up again this year, perhaps this time with cameos from Jason Alexander and Larry David.
Watch some video captured on the street in front of the diner Monday by Morini, including short comments from Seinfeld and David:
[photo via screengrab]
— —
>> Follow Matt Wilstein (@TheMattWilstein) on Twitter
Have a tip we should know? tips@mediaite.com