'We're Not Propagandists': MSNBC's Krystal Ball Blasts Liberals Demanding Positive Obamacare Coverage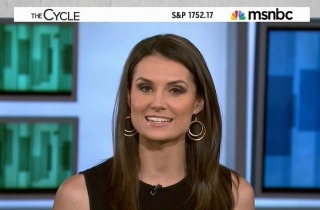 Krystal Ball, co-host of MSNBC's The Cycle, went after those liberals on Thursday who are expressing frustration with Democratic-friendly media outlets who are covering the Affordable Care Act roll-out in an unfavorable light. "We are not propagandists," Ball stated. "We don't insulate ourselves into our own media bubble impervious to the reality around us."

Ball began her segment by listing a series of imagined headlines that would be gracing stories across the country if the ACA had experienced a more successful roll-out.
"Republicans, of course, have been lying to Americans about the Affordable Care Act," she continued, "telling them it's a train wreck, saying this president is a bystander to his own presidency, arguing that the federal government is incompetent and can't work."
"Now they've got all kinds of evidence to back up their malicious and destructive claims," Ball added.
"This is the first direct experience that millions of Americans will have with Obamacare," she insisted. "This is the critical entry point to President [Barack] Obama's signature achievement; an achievement that we've marched for, and rallied for, and fought Supreme Court cases and elections over."
"I'm not trying to engage in hyperbole here," Ball continued. "The Affordable Care Act can still work beautifully, but we've sure taken a giant risk — an unnecessary risk — with a dismal failure of a rollout and there's really no excuse."
RELATED: Ezra Klein 'Shocked' at Joan Walsh Criticism: 'My Job is to Cover Obamacare Accurately'
Ball noted that Democrats risk their brand as the party of good government with a failed roll-out. She went on to say that she is "disappointed" in her liberal friends for not being more honest about the failed ACA debut.
"We're not like them," she said. "We're supposed to be the one whose tell it straight even when it's not convenient."
"To those who say by pointing out the failing of the website we're giving comfort to the GOP propagandists, I would say this: we are not the ones giving comfort to the propagandists, the failing website, which is keeping people from signing up for health care, is what has given them comfort," the MSNBC host concluded.
Watch the clip below via MSNBC:
Visit NBCNews.com for breaking news, world news, and news about the economy
[Photo via screen grab ]
— —
> >Follow Noah Rothman (@NoahCRothman) on Twitter
Have a tip we should know? tips@mediaite.com