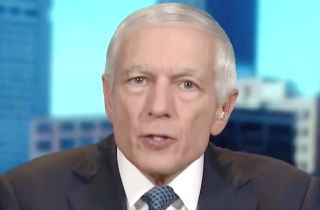 When retired general and former Democratic presidential candidate Wesley Clark said Monday that he'd like to see "radicalized" Americans placed in "camps," similar to how the United States treated enemy sympathizers during World War II, it really seemed like he had stepped in it.
"If someone supported Nazi Germany at the expense of the United States, we didn't say that was freedom of speech, we put him in a camp," he told MSNBC's Thomas Roberts. "If these people are radicalized and they don't support the United States, and they're disloyal to the United States as a matter of principle, fine, that's their right. It's our right and our obligation to segregate them from the normal community for the duration of the conflict."
You might think he'd have eased the pedal on the internment-speak since then, but no… he wasn't exactly done.
Appearing the next day on Fox News Radio's The Alan Colmes Show, Clark suggested the media had taken his initial remarks out of context. When given the chance to clarify, the former NATO Supreme Allied Commander said he didn't mean "internment camps" but something more resembling… re-education camps?
"Were you saying some people should be put in some kind of internment camp in our society?" Colmes pointedly asked. Clark's response (emphasis added):
I'm saying we've got to deal with radicalization in our society…. You've got to have a counter-recruitment program. If the counter-recruitment program doesn't work — that is to say: if you don't know who is looking at these Islamic websites, if you don't know what their reactions are, if you don't have anybody who can talk them out of it, if they persist in becoming enemies, and wanting to kill people — you've got to set up some milestones along that journey for them. And at some point they either get arrested, get treated as terrorists, or they get put in a prisoner of war camp. It's nothing like what some people on the internet misinterpreted what I'm saying. We had Italian and German prisoners of war in the United States; here are people who fought against us, they were brought here and kept here for the duration of the conflict. You can treat people as criminals or you can treat people as POWs.
Of course, he didn't directly say "re-eduction," but with the suggestion that we should fight recruitment of "radicalized" Americans by preventing them from further socializing with jihadist forces abroad, while "talking them out of it," you come damn near close.
He later suggested to Colmes that the federal government has the power to know everything about "every chat room" online, and therefore intelligence agencies should be able to identify people who are in need of intervention.
When asked who would qualify to become a "POW" at these camps, Clark demured: "You know, Alan, the lawyers and political leaders would have to make those determinations."
Ah, okay.
Watch below, via Fox News Radio:
— —
Have a tip we should know? tips@mediaite.com