WH Adviser Defends Benghazi Talking Points On This Week: Republicans Owe Susan Rice 'An Apology'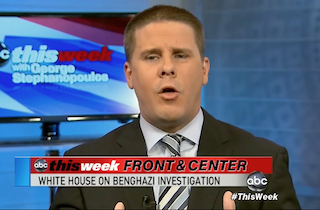 During White House Senior Adviser Dan Pfeiffer's appearance on ABC's This Week, host George Stephanopoulos questioned him about the administration's take on the controversy surrounding Benghazi talking points — particularly in light of the emails the White House recently released. Addressing the issue, Pfeiffer went on to argued that Republicans owe UN Ambassador Susan Rice an apology.
Stephanopoulos initially pointed to White House Press Secretary Jay Carney's repeated assertion that the White House made only one stylistic change to the talking points — a point that the ABC host said contradicts the emails. To the contrary, Pfeiffer argued the emails "undermine" opponents' allegations because they mention protests, show the terrorism references weren't scrubbed by the White House, and show that everyone was "trying to get it right as best they could."
"But it also does show that the changes were more extensive than" just one adjustment, Stephanopoulos countered. The emails show, "beyond a shadow of a doubt," Pfeiffer argued, that the "Republican allegations" about political motivations are not true.
"Frankly, I think that many of the Republicans who have been talking about this, now that they've seen the emails, owe Ambassador Rice an apology for the things they've said about her in the wake of the attack," he contended.
"Apology for what?" Stephanopoulos asked.
"For accusing her of misleading the country, for saying that she didn't," Pfeiffer responded, "That somehow she was involved in some sort of political whitewash of what happened there. What she said was what the intelligence community believed at the time. And when we got further information, we told the American people what that was. That's how people know what happened here."
Watch below, via ABC:

Have a tip we should know? [email protected]