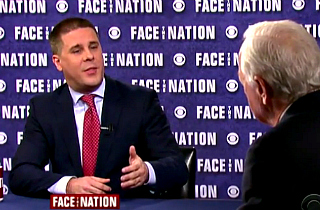 In an eiffer v ieffer showdown Sunday morning, Senior White House advisor Dan Pfeiffer told Face the Nation's Bob Schieffer that the Obama administration deserved a lot of credit for turning the disastrous Affordable Care Act website around, but that there were no plans to take a victory lap over reaching the 7 million enrollment mark.

"We all felt pretty good when we hit the mark that no one thought we were gonna hit," Pfeiffer said. "But it's not a victory lap. And the president has told us to keep our eye on the ball every day to make sure this law is implemented as well as possible."
Pfeiffer added that 200,000 more people had signed up through the exchanges since the initial March 31st deadline, and also said that early demographic data suggested the risk pool mix followed closely that of Massachusetts' health care enrollment, in which young people joined at the last minute. "We feel good about the mix thus far," Pfeiffer said.

RELATED: Networks Refuse Obama Request for Primetime to Announce Obamacare Hitting 7 Million Mark
Schieffer asked if lessons had been learned from last fall's disastrous launch.
"I think we learned a lot about how the government handles big IT projects," Pfeiffer said, "about decision making around these sorts of projects with contractors. We learned that you can absolutely never take your eye off the ball. Everyone from the president and Secretary [Kathleen] Sebelius on down got a lot of deserved blame and took responsibility for the mistakes that happened. And the same group of people deserve credit for how they rescued this and brought it to a level of success that people thought was impossible a few months ago."
Watch the clip below, via CBS News:
——
>> Follow Evan McMurry (@evanmcmurry) on Twitter
Have a tip we should know? tips@mediaite.com