'What A Misfire': Fox & Friends Blasts WH Cutting Tours While 'Nobody Has Lost Their Jobs' To Furloughs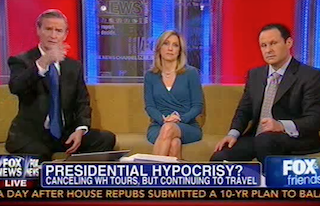 President Obama's decision to cancel White House tours has blown up in their face, co-host Steve Doocy asserted on Thursday's Fox & Friends. Hitting the "blame game," the crew pointed to Obama placing the blame on the Secret Service while his press secretary saying the White House was involved in the decision. This inconsistency was just one criticism they had of the matter.
The decision is purely "symbolism" to show the sequester cuts hurt, Brian Kilmeade asserted. "This has been a disaster, been unexplainable." During the president's meeting with Republicans, Kilmeade noted, that he was asked whether the White House couldn't cut something else… like their Christmas party. When receiving groans to his response, he added, Obama told them not to be respectful.
"How unbelievable is this?" he asked.
"What a misfire," Alisyn Camerota agreed, adding that they should have expected backlash when kids' tours would be cancelled. "Obviously there are other things in the White House budget that could be cut." For example, as some have suggested, the president's travel.
With that, they turned to ABC News' Jonathan Karl questioning Obama on that issue during a press briefing — in which Press Secretary Jay Carney said he was "trivializing" a serious issue. The president mentioned there could be Secret Service furloughs, but Doocy said that's yet to happen, while Kilmeade replied that we wouldn't know about it even if it did.
"Nobody has lost their jobs yet," Doocy said. "But they stopped the tours last week. What's up with that?"
Take a look, via Fox News:

Have a tip we should know? tips@mediaite.com