'What About Telling the Truth?' Piers Morgan, Blackburn Battle Dem Rep. on Obamacare 'Lie'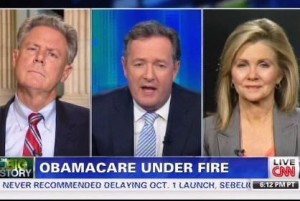 It's a rare day when Piers Morgan finds himself in agreement with Marsha Blackburn, but on Wednesday night, both the CNN host and the Republican congresswoman tag-teamed Democrat Frank Pallone, he of "monkey court" fame, over the "lie" President Obama pushed for years on the Affordable Care Act.
Morgan called the site failure a "complete unmitigated fiasco," and asked if the law is working so well, "Why is everyone from the president to Secretary Sebelius to Joe Biden apologizing to the American people?" Pallone insisted the law is doing fine aside from the website issues.
Morgan did point out to Blackburn that the GOP may look "silly" next year if the mess gets fixed and becomes wildly popular. She said, "You never look silly when you're defending the American people and their pocketbook."
Morgan brought up Obama's promise that people can keep their plans if they like it, and called it a pure and simple "lie." Pallone shot back, "Of course it was not a lie, Piers!" He argued that a vast majority of people will be able to keep their plans, but the problem resides with insurance companies and their "lousy" "scam" plans.
Morgan interrupted, "So why didn't the president just say that? Why didn't he just be honest?… What about telling the truth?"
Blackburn, clearly amused that she was not the target of Morgan's wrath for once, piled on and when Pallone brought up the "scam" policy issue again, she said, "Frank, you need to stop that. That is insulting and inappropriate to people."
Morgan concluded by telling Pallone, "If you move the goalposts any further, they'll literally be off the field."
Watch the video below, via CNN:
[photo via screengrab]
— —
Follow Josh Feldman on Twitter: @feldmaniac
Have a tip we should know? [email protected]
Josh Feldman - Senior Editor