'You're Auditioning for MSNBC!' Weiner, Hannity Get in Epic Brawl Over Shutdown, Debt Ceiling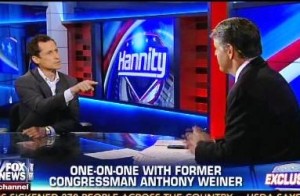 Anthony Weiner used to be one of Fox News' most frequent Democratic guests before… well, you know. But Wednesday night, he made his triumphant (I use that term loosely) return to Fox, taking on Sean Hannity over the government shutdown, the fight over the debt ceiling, and, of course, the penis-shaped elephant in the room.
Hannity opened by asking Weiner whether he learned anything from his big scandal. Weiner said he's focused on the issues and dismissed Hannity's suggestion he's angling for a TV gig. Hannity also somewhat awkwardly confronted Weiner about Sydney Leathers telling him Weiner hated him the most out of all conservative pundits. Weiner said it's untrue, telling Hannity unlike his former liberal colleagues in Congress, "I didn't think it was heresy to be on Fox."
On the debt ceiling, Weiner admitted that some Democrats have played politics with it in the past, but the Republicans in Congress now are "playing a game of stand-off with the economy." Weiner kept pestering Hannity to say whether the debt limit should be raised, and when Hannity told him to stop asking questions, he shot back, "What am I, a potted plant?"
Weiner called Hannity "defensive" and said, "You speak to the mothership at that party." As Weiner kept going, Hannity figured out exactly what his game was.
"You're auditioning for MSNBC! You're auditioning. You want Chris Matthews' job, I can tell!… You never shut up like Chris Matthews either!"
Weiner shot back, "Why do you always have patsies on?" and commented that "Fox apparently has much lower standards."
Hannity replied, "You want to talk about low standards? You really want to go there?"
Watch the video below, via Fox News:
[photo via screengrab]
— —
Follow Josh Feldman on Twitter: @feldmaniac
Have a tip we should know? tips@mediaite.com
Josh Feldman - Senior Editor