'What Are We Supposed To Do?': Conway Responds To Question About Trump Supporters' Anti-Semitism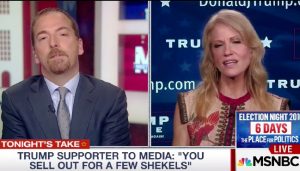 During an appearance on MSNBC's MTP Daily, Trump campaign manager Kellyanne Conway seemed a bit flustered when host Chuck Todd continuously pressed her to answer for Trump supporters at rallies displaying anti-Semitism.
Towards the end of the interview, Todd played Conway a clip of a rallygoer earlier in the day shouting at the media pen, calling them an embarrassment and yelling that they're selling out for "a few shekels." The MSNBC host pointed out that Conway's already been asked about the Jew-S-A guy, and noted that Donald Trump himself isn't saying these things, but wanted to know what the campaign was doing to stop this.
Conway claimed right away that this isn't happening a lot and that she wouldn't be part of a campaign that was part of something like this.
Todd pressed on, highlighting that "it keeps showing up," leading Conway to object and exclaim that this isn't the campaign's fault.
"What are we supposed to do about fools," a frustrated Conway cried out. "The First Amendment right — you can sound like a fool. I hear people sound like that everyday."
The veteran pollster continued, "The fact is in the case of Arizona, I checked with our head of security and he — plus the guys on the ground in Arizona — tell me they removed that protester. I didn't hear that covered in the news."
(It appears she was talking about the Jew-S-A rally attendee above and not the most recent incident, as that occurred in Florida.)
She further said that those views "don't reflect" that of the campaign and that they denounce those types of views.
The interview ended with both Todd and Conway expressing the level of hatred they've received online.
Watch the clip above, via MSNBC.
[image via screengrab]
–
Follow Justin Baragona on Twitter: @justinbaragona
Have a tip we should know? tips@mediaite.com