'What Are You So Mad About'? Scarborough, Fmr. Bush Adviser Clash Over Gov't Surveillance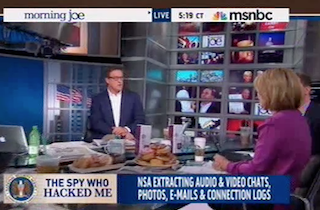 Joe Scarborough faced Nicolle Wallace, former communications director for President George W. Bush, on Friday's Morning Joe when he questioned a government that has the power — and has used that power — to snoop on phone calls and internet activity of its citizens. While Wallace didn't understand why Scarborough was so upset, he continued to assert that national security is not an "all-or-nothing" situation.
Scarborough emphasized that this has been going on without us knowing about it "for six, seven years," and just now we're all debating it. This is the national security state we live in, Willie Geist remarked, pointing to the "fact that the government is just going to watch everything we do." Scarborough critically questioned why a bombing in Boston means all his online information is subject to government surveillance.
"It's not an all-or-nothing thing," he pressed. "We should keep this country safe without the federal government having access to everything 300 million Americans do online."
"What are you so mad about, Joe?" Wallace jumped in. "They're not looking for your home shopping history. They're looking for people who are making contact with foreign terrorists."
Scarborough countered that federal government with too much power finds itself abusing that power. "Are you really saying in the wake of the Internal Revenue Service targeting conservatives that we — what am I worried about?" he asked. "I'm not angry! I'm angry at the fact that these senators are going out yesterday acting like this much ado do about nothing and we didn't know about it!"
Anyone whose activity online isn't "dodgy" has nothing to worry about, Wallace pressed. "If you're not reading about recipes for homemade bombs…then don't worry about it."
"Like the IRS is not going to audit you and try to destroy you if you try to set up a conservative organization," Scarborough fired back. "Why don't you conflate the two stories? It's the same federal government."
Take a look, via MSNBC:

Have a tip we should know? tips@mediaite.com