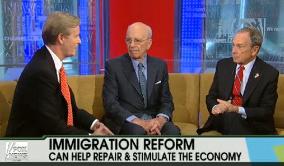 The subject that brought New York City Mayor Michael Bloomberg and News Corp. CEO Rupert Murdoch to the Fox & Friends curvy couch this morning during a joint appearance is certainly a politically polarizing one – immigration.
The high-profile duo and other CEOs are teaming up to both secure the border, but also provide a path to legal status for all undocumented immigrants.
The "Partnership For A New American Economy" consists of politicians and CEOs, but Steve Doocy interviewed two of the biggest names this morning. "I think we can show to the public the benefits of having migrants and the jobs that go with them," said Murdoch, and Bloomberg agreed:
I don't think it's partisan. You see it on both sides of the aisle, you see it around this country. New York City, there is certainly no anti-immigration feeling here. But, you go one or two counties away and you're reading in the local newspapers, there are some anti-immigrant feelings. Somebody has to lead and explain to the country why this is in our interest.
Murdoch brought up the Arizona immigration battle, and while sympathizing with the citizens, he spoke out in favor of immigration as a whole. "People feel that culture is being changed," he said. "They feel upset by it. I understand that, but that's been going on in this country for hundreds of years. We just have to adjust."
This is day one of the new coalition – it will be interesting to see how the conservative hosts and regular pundits on Fox News discuss the plans put forth by the group, considering their boss is part of the organization.
Here's the interview:


—–
» Follow Steve Krakauer on Twitter
Have a tip we should know? tips@mediaite.com