What Can Bring Dan Rather and CBS Together? A Moving Tribute to Walter Cronkite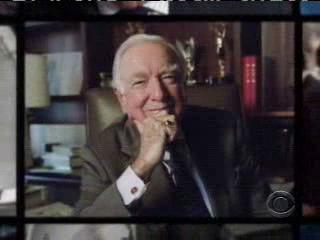 It didn't take long to see the significance of the CBS special about Walter Cronkite tonight. After a silent screen announced that 60 Minutes would not be airing, and why, a voice began to speak, sounding like a grandfather propping a grandchild onto his knee to tell an enormously important tale: "There are thousands of voices delivering the news today, but there once was a time, not long ago, when one voice mattered most."
And within the first two minutes, there was former CBS newsman, and current CBS litigant, Dan Rather.
This opening segment set the tone for a powerful tribute, from fellow journalists and more, to a man who meant so much to the fourth estate.
The biggest names were brought in to reflect on Cronkite in preparation of his passing (as noted by my colleague Rachel Sklar, Katie Couric's interview was clearly done months ago): beginning with ABC's Diane Sawyer, the first segment featured comments from NBC's Brian Williams, actor George Clooney, ABC's Barbara Walters, Pres. Bill Clinton, ABC's Charlie Gibson, Rather and more.
Each had a different take on Cronkite. Couric described how there was something "quintessentially American about Walter Cronkite." Williams talked about his retirement, and how "more than one man was leaving the chair." 60 Minutes creator Don Hewitt said "he calmed America down" in the wake of the Kennedy assassination. (Cronkite's own words about the story, back in 1993, rang especially true now: "Anchormen shouldn't cry.")
It was largely devoid of the "look at me" asides exhibited by some over the weekend (although some of the celebrities slipped in a few references).
There were surprises too: like how Frank Sinatra literally threatened to kill Cronkite's producer Hewitt over the anchor's mobster association questioning. But Cronkite asked, and Sinatra did answer.
It was two things about the special that stood out most. First, the inclusion of Rather. Just five years ago it would be unheard of to entertain the idea Rather wouldn't be part of a Cronkite tribute, considering he replaced the man as CBS Evening News anchor (however awkward that replacement was). Then, there was the Killian report and a $70 million lawsuit, and a severely fractured relationship with the Tiffany Network. Even so – it was important for Rather to be part of this special, and it shows how much Cronkite meant to journalism as whole.
And also, time slot: where 60 Minutes normally airs. The program is still regularly the most-watched news show, and is widely seen as one of the remaining pillars of journalistic excellence. Cronkite would be proud to occupy the spot – and more people got to learn about him and his impact in this slot than in cable news wall-to-wall reporting.
Describing his lack of formal broadcast training, Cronkite said in a 1993 interview shown during the special, "What you see, I'm afraid, is what you get."
I'm afraid we don't get enough of Cronkite, or specials like this, anymore.
—–
• Follow Steve Krakauer on Twitter
Have a tip we should know? tips@mediaite.com