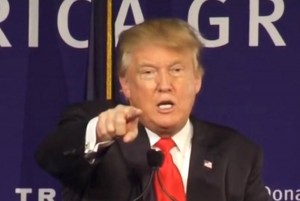 Fans of Republican frontrunner Donald Trump made news recently with some nasty and abusive behavior toward MSNBC campaign reporter Katy Tur, behavior which earned rebukes from fellow journalists like Chuck Todd and Megyn Kelly. According to Tur, Trump fans called her a "bitch" and were jeering and making obscene gestures at the press pen during a recent Trump event.
Trump trashes press. Crowd jeers. Guy by press 'pen' looks at us & screams "you're a bitch!" Other gentleman gives cameras the double bird.

— Katy Tur (@KatyTurNBC) February 21, 2016
Chuck Todd even went so far as to worry over the safety of reporters like Tur at Trump events:
The campaign rhetoric needs to be ratcheted back. This is outrageous and dangerous behavior https://t.co/Qi4eAQxkgb

— Chuck Todd (@chucktodd) February 21, 2016
@EnLitendJourney that's my fear

— Chuck Todd (@chucktodd) February 21, 2016
Kudos to Chuck for stepping up and saying something, but Katy Tur doesn't work for Chuck Todd, and her network has shown little interest in protecting her from abuse like this. In fact, they've rewarded it. Most of the media seems to have missed this, but Trump himself actually singled Tur out physically at a rally, and whipped the crowd into a frenzy against her:
She's back there. Little Katy. She's back there. What a lie it was. What a lie – Katy Tur!
You would think that after such a display, the network would do something to protect their reporter, and maybe head off the kind of ugliness Tur faced this week, but you would be wrong. That incident took place two months ago. Instead of defending Tur and convening any sort of discussion with Trump, the network proceeded to broadcast a fawning "documentary" about the candidate, continued to air Trump rallies live, and continued to allow MSNBC's talent to shamelessly shill for Trump, culminating in a sham "town hall meeting" that was little more than an infomercial.
Here's the really disgusting part, though. After completely ignoring what Trump did to Tur, they sprang into action to defend Joe scarborough and Mika Brzezinski when the pair were accused of being "supporters" of Donald Trump. They released an official statement pushing back on CNN for reporting that Joe and Mika had watched New Hampshire primary results in Trump's hotel room, which turned out to be true, even in their statement. They will attack CNN for reporting the truth, but they won't lift a finger to protect their reporters from abuse.
Katy Tur, of course, has not asked for protection, but that's not the point. Reporters are supposed to try and keep themselves out of the story, and frankly, covering Trump has raised Tur's profile to a degree that I can't see wild horses dragging her away from that beat. But MSNBC has a responsibility, nevertheless, to step in when someone crosses the line with one of their employees, as Trump clearly did a long time ago. If Chuck Todd's fears come true, and someone like Tur does get hurt, it will be on MSNBC's head, too.
This is an opinion piece. The views expressed in this article are those of just the author.