What Do Chick-Fil-A, Buckie Balls And Ted Cruz Have In Common? Michelle Malkin Explains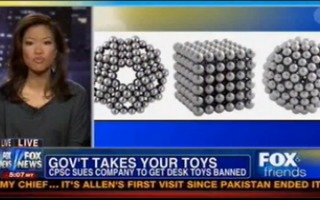 Michelle Malkin appeared on Fox & Friends Thursday, where she covered several topics related to what she describes as a theme of social media bolstering grassroots, "counter-cultural" movements.
RELATED: Gov. Huckabee Basks In Success Of Chick-Fil-A Appreciation Day: 'Big Day For America'
First, she shared her experience participating in yesterday's "Chick-fil-A Appreciation Day," describing long lines and enthusiasm on the part of what she jokingly referred to as "wacky, radical thug activists in America." Furthermore, she said, "I think it bodes well for not just social conservative activists, but people who want to push back against the culture. This is really a counter-cultural moment for America."
Also testament to America's counter-cultural movement? "Buckie Balls," apparently. Malkin explained that the desk toys, which have "helped spur a lot of entrepreneurship and ideas and creativity," are now the focus of "a nanny state agency known as the Consumer Product Safety Commission," which "basically wants to run them out of business, and announced last week that they are filing what they call an administrative complaint to get them to stop selling their products" because there have been cases of children swallowing parts of the product. But, as Malkin pointed out, it's not as if the agency is doing anything about all the coins swallowed by children annually. Now the company is using social media to fight back against the government.
"In a time when the economy is so dire," said Malkin, "Why is the Obama administration CPSC trying to kill businesses? The nanny state is a serial job killer for sure."
"excellent questions," responded host Steve Doocy. "It sounds, however, though, as if the Obama administration is trying to push people into, for instance, the Chevy Volt. We told this story yesterday, where this sustainable village of sorts is going to be built outside of Austin, Texas. They're trying to figure out how little energy people can use in their daily lives. What they've done is apparently they made 100 Chevy Volts available to people who live there, 'cause apparently they're hard to get. Yeah, right. But only 55 residents took them up on the offer. This despite thousands and thousands of dollars of refunds and tax subsidies."
"Yeah, ood luck with that," Malkin replied. "I have hope this Voltville village — Revoltingville, in my opinion — is equipped with multiple fire extinguishers. They're going to need it, given the safety record of these Volts." This is just another instance, she said, of the government becoming involved in business at the expense of other businesses.
Finally, she saw Ted Cruz's victory as "another nice theme on this entire segment," with social media playing an active role in his rising popularity.
Have a look, via Fox News:
Have a tip we should know? tips@mediaite.com