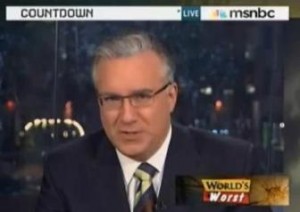 Un-suspended MSNBC host Keith Olbermann, fresh off his headline-sparking sendoff over campaign contributions (perhaps you heard something about it?) and back at work bringing about the "death of real news" will soon have new bosses.
MarketWatch commentator Jon Friedman wonders whether the cable honchos at Comcast will try to "rein in" MSNBC's "brazen" star:
Olbermann reacted to his brief suspension by blasting his employer's policies. He may well have had a point — but, perhaps he shouldn't have been so brazen, anyway. With a new owner coming on the scene he might be better off by trying to repair his image, not fan the flames.
Friedman points out that while MSNBC's image tends toward "rollicking," Philadelphia-based Comcast, well, doesn't:
Comcast is a highly successful, rather conservatively run organization. It particularly stands out in the clamorous New York-centric media universe, where controversies and scandals sometimes seem to be a way of life.

If I were a betting man, I'd suspect that Comcast would want to rein in MSNBC — and avoid any future controversies. MSNBC is locked into supporting a left-leaning point of view — just as Fox reflects its right-tilting viewers. Will that change under Comcast? I'd doubt it, but you may well see more flexibility after Comcast takes over.
Friedman, who calls MSNBC the "loose shirttail" among NBC properties, wonders how much pressure Olbermann may come under–especially in light of the recent dispatch of NBC chief Jeff Zucker. Poorly rated programs on MSNBC may not be tolerated under the new regime, especially with big brother NBC News continuing to dominate ABC and CBS.
Olbermann, though not necessarily bulletproof after his headline-grabbing long weekend, may yet be protected by his status atop the MSNBC ratings pile alongside primetime hosts Rachel Maddow and Lawrence O'Donnell…at least for now.
Have a tip we should know? tips@mediaite.com