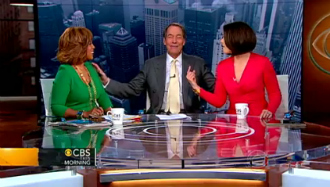 CBS This Morning celebrated its 100th broadcast on Friday. You may recall that CBS cancelled The Early Show last year and debuted this new morning show the second week of January. The old Early Show perpetually finished third-place in the ratings, behind NBC's Today Show and ABC's Good Morning America, and so the network touted the new show as a "hard news" alternative to their competitors.
But what exactly is CBS celebrating? The show, thus far, has not been a ratings improvement upon its predecessor.
In its final two months of broadcast, the old Early Show averaged about 1.06 million viewers in the target demographic (ages 25-54) and about 2.48 million in total viewers. Both figures landed the show in a distant third place among network morning shows.
Since the new This Morning debuted, the ratings have remained relatively flat. Average total viewership has increased by roughly 50,000 viewers, but the average target demo has decreased by 40,000 viewers. All the while, NBC and ABC continue to trounce CBS in both categories.
At best, I suppose that tiny increase in total viewership could be seen as a positive. At worst, the ratings represent a continuation of CBS's morning mediocrity.
The effort to re-brand its morning show as "hard news" seems to be failing. Our own Jamie Crugnale noted that the new show contains much fluff despite the "newsier" label.
And anyway, shouldn't celebration should be based on accomplishment, not on the amount of episodes?
Check out the This Morning crew talk about their 100th episode below, via CBS:
(H/T Huffington Post)
Have a tip we should know? tips@mediaite.com