What Happened To David Gregory As 'Heir Apparent' To Matt Lauer On The Today Show?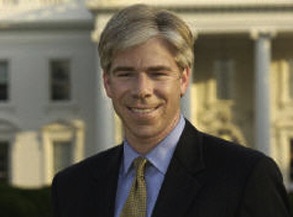 About five years ago if you asked any regular Today Show watcher who would take over as co-host if Matt Lauer ever left, the answer would have been an easy one: David Gregory. The natural and smooth (and tall!) Gregory had been the fill in for Lauer just about every time Lauer took any time off. He even boogied live at the 30 Rock plaza to show off his "lighter side." But these days an 8-11AM Today Show watcher who doesn't follow politics closely (Gregory appears to be on pretty regularly in the first half hour talking politics) might very well say David who?
These days the Today Show has alternated primarily between two male substitute hosts: Morning Joe's Willie Geist and CNBC's Carl Quintanilla. So what happened to Gregory? In 2008, Gregory was given the prestigious job hosting the Sunday political powerhouse Meet The Press. No small job to fill Tim Russert's shoes at the number one weekend political program. But a New York Times piece covering his move made it clear the Today Show was still part of the deal and part of Gregory's future. Bill Carter wrote: "Under his new contract, he will continue to have a presence on "Today," serving as the regular substitute host for Matt Lauer." The Today Show clearly intended to have Gregory move from Meet The Press to the Today Show ala George Stephanopoulos if Lauer ever left.
With speculation now rampant that Lauer might actually pack his bags at the end of his contract, insiders are speculating publicly about Geist. Quintanilla, Lester Holt, Al Roker even ABC's Chris Cuomo but very little mention of Gregory. While Gregory has been thrown the occasional fill-in bone as of late, he has been far from a regular host on the show, the way he once was.
Did Jeff Zucker's departure shift Gregory's star trajectory? We contacted NBC for comment and a spokesperson told Mediaite "Matt Lauer is under contract and has a long time left at the TODAY show. We prefer not to comment on speculation." That's probably true, but that doesn't mean that the media soothsayers haven't noticed the shifting narrative of what "insiders" have been speculating. One has to wonder if that is a source of frustration for the multi-talented Gregory. Stay tuned.
Podcast: Play in new window | Download
Have a tip we should know? tips@mediaite.com