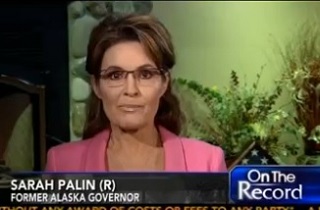 There was a time, not long ago, when former semi-Governor Sarah Palin (R-AK) could cause a stir just by Facebooking her own bad dystopian Obamacare fanfic, but hard times have fallen on the giving a rat's winking ass about Sarah Palin industry. How bad has it gotten? Barely a month into her serious consideration of a bid to replace Senator Mark Begich (D-AK), Palin announced that she is "not planning to run for the U.S. Senate," and not only did nobody care, they actually cared more about Palin's thoughts on Ashton Kutcher than her senatorial ambitions, or lack thereof.
In fact, if I were not a regular reader of Wonkette, which still cares enough to cover Sarah Palin as a politician, I never would have known about Palin's announcement, which came during a Friday appearance on Fox News' On the Record with Greta Van Susteren, an appearance that was actually covered on this here Mediaite website right here. The headline from that appearance, though, was about Palin's high opinion of Ashton Kutcher, who has somehow made work "cool again," because the millions of unemployed are obviously just hipsters who don't want to do something as played out as feeding their kids.
Right after that bit of incisive social commentary, though, Greta asked Palin about all the "chatter" she's heard from Sarah Palin about a Sarah Palin senate bid, and the former Governor Resignate said something about how Mark Begich is referred to as "Marky Mark and the Funky Bunch" in Sarah Palin's head, and that there are "thousands of Alaskans" who could do the job, and "it doesn't have to be me. And as of this date, I am not planning to run for the U.S. Senate.
It's true that she immediately followed that up with "but I certainly would never say never in this case," but in the olden days, such a declaration would have been good for a Drudge link, a week's worth of Special Comments from Keith Olbermann, and a chorus of wailing from Palin supporters that would explode your head like that guy in Scanners.
I know what you're thinking, but it wasn't just Mediaite who didn't care about Palin resigning from her imaginary senate campaign: it didn't even rate a headline at Conservatives4Palin, and they posted a headline on Saturday that announced "Governor Palin Tweets Madison Rising's Version of The Star Spangled Banner."
I kid C4P, but that post actually is interesting, because I wouldn't have thought a real American like Sarah Palin would stand for a bunch of greasy musician types foolin' around with the lyrics to our National Anthem. If you've never heard of Madison Rising, they're the kind of guys who sit around thinking things like "Y'know what The Star Spangled Banner needs? A bridge."
Palin also took a shot at Begich for using "my name as his fundraising tool," claiming that "he's kinds of in a panic there, being threatened, I guess."
She didn't say whether Begich felt more threatened by the 55% of Alaskans who feel negatively about Palin, or his own 18-point lead in the latest poll, and now, it seems we'll never know.
On the off chance that some future generation does care, though, I feel it is my duty to present Palin's kind of exit from a sort of senate race. Here's the clip, from Fox News:
[photo via screengrab]
Have a tip we should know? tips@mediaite.com