What Is Clinical Death? Egyptian State Reports Of Mubarak's Clinical Death Contradicted By Global News Agencies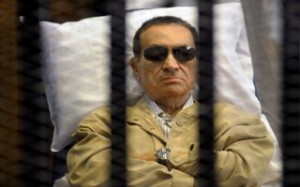 Reports that deposed Egyptian President Hosni Mubarak is 'clinically dead' are being contradicted by news agencies that are reporting the ousted former leader is alive but on a respirator following a massive stroke. But what is clinical death and why is this condition potentially confusing?

RELATED: Former Egyptian President Hosni Mubarak 'Clinically Dead,' According To Report
Clinical death is defined by a lack of brain activity that often follows the cessation of blood flow to the brain. This could be caused by a heart attack or a blood clot that stops blood flow to the brain. The ceasing of respiratory activity can also cause brain death.
The condition can onset following a cardiac arrest or after a major stroke – both of which Mubarak suffered on Tuesday.
Both Reuters and The Washington Post have reported that Egyptian state television is broadcasting erroneous reports that Mubarak is "clinically dead."
EGYPT'S MUBARAK UNCONSCIOUS AND ON RESPIRATOR, NOT CLINICALLY DEAD – TWO SECURITY SOURCES TELL REUTERS

— Reuters Top News (@Reuters) June 19, 2012
#BREAKINGNEWS: Mubarak's lawyer says ousted leader is not dead. #Egypt

— The Washington Post (@washingtonpost) June 19, 2012
CNN's John King has reported that Mubarak is in critical condition and remains on a respirator following a stroke and a subsequent heart attack:
SCAF tells @CNN #Mubarak is NOT "clinically dead" but he's in critical condition and his health is deteriorating. Tune in to @JohnKingUSA.

— John King, USA (@JohnKingUSA) June 19, 2012
Egypt has been disrupted by protests since the nation's highest court invalidated the results of a parliamentary election which handed the military control over the state's legislature. A presidential election last weekend which delivered a victory to the Muslim Brotherhood's candidate has created a stalemate and exacerbated protests in the streets.
Below is the initial report of Mubarak's death via CNN:
> >Follow Noah Rothman (@Noah_C_Rothman) on Twitter
Have a tip we should know? tips@mediaite.com