What One Question Would Jerry Springer Ask Trump? Easy: 'Have You Ever Been a Woman?'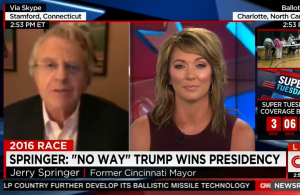 Jerry Springer — yes, that Jerry Springer — has been doing the cable news rotation all day now that the political world has descended on his native Ohio. Springer served as the Cincinnati mayor in the late 70's, and now that the pivotal races in both the Democratic and Republican parties are focused on the Buckeye State, Springer has been the toast of the town all day.
Earlier this morning the tabloid television host told MSNBC's Steve Kornacki that the state of the Grand Old Party is "disgraceful" in his opinion, pointing to the fractured debates as evidence that simply "that's not how you run a country."
But it was CNN's Brooke Baldwin Tuesday afternoon who cornered Springer with the realization on the minds of many: how can you, Jerry Springer, criticize the circus free-for-all of American politics when you helm the most disastrous explosion of social grime in TV history?
In short: "What a great show!" then adding, "If you look closely at the screen, you won't find one person there running for President. That's the difference."
And before the interview was over, just for fun, Baldwin asked Springer to identify what one question he would ask the Republican frontrunner if he could have Trump on his show. Very casually, Jerry Springer responded, "Have you ever been a woman?"
"Jerry Springer, you have rendered me speechless," admitted Baldwin. So, if YOU had a trashy daytime TV show, what would you ask Donald Trump?
Watch the above clip from CNN, and for nostalgia, check out this YouTube clip below from a famous Jerry Springer episode called "Klanfrontation" where founding members of the Jewish Defense League outright BRAWLED with members of the — yup, you guessed it — Ku Klux Klan. JER-RY! JER-RY! JER-RY!
Have a tip we should know? tips@mediaite.com