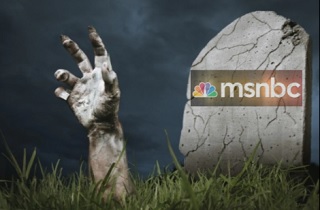 There has been a lot of virtual ink devoted to the two months of dismal ratings that MSNBC has just endured, some of it sincere, some of it concern-trolling, and much of it tinged with schadenfreude. There has even been talk that the network might never recover, at least not unless it abandons its Lean Forward identity. In order to figure out how to fix MSNBC's problems, you have to understand what went wrong in the first place, and you have to actually want the network to thrive.
Before I even start, and more importantly, before any of you even start, let me set the record straight: I hate everything about TV ratings. I hate writing about them, reading about them, and I especially hate getting PR pitches about them. ratings are a terrible way to measure quality, especially in news programming, there are a million ways to slice and dice them, and just looking at them gives me a headache. This is not an invitation for you to email me about how your show is #1 with carpentry aficionados age 63-97. My concern for ratings is confined to their effect on whether I can continue watching programming that I enjoy.
That's why I took notice when Salon's Alex Pareene, in an otherwise excellent column, suggested that MSNBC's bad stretch has put the network's progressive-leaning orbit into fatal decay. Are the ratings really that bad?
Well, they are pretty bad, from what I can see, and as Pareene notes, lots of people are taking this opportunity to beat up on All In host Chris Hayes. The launch of the former Up star's 8 pm show just happened to coincide with an extended series of news cycles that played to rivals CNN and Fox News' strengths, along with the climax of the HLN-owned-and-operated Jodi Arias trial. Here's how Pareene describes it:
Meanwhile, CNN's been given gift after gift by whichever minor demons are responsible for the creation of cable news stories. The channel's new Zucker-approved softer focus and lack of dignity allowed it to capitalize on Jodi Arias nearly as much as its trashy sister station HLN did. The Boston bombings were a perfect CNN story, even if CNN botched the hell out of its coverage. The Dzhokhar Tsarnaev manhunt was precisely the sort of story that makes people go through their channel guides trying to remember which one CNN is. And then there was the West, Texas, explosion. CNN capitalized on all of this because CNN's brand is "breaking news." Fox capitalized because there are simply a whole bunch of people out there whose TVs are tuned to Fox basically all the time. MSNBC's brand is "people either talking calmly or yelling at you, or each other, about politics." These weren't stories that made people think, "What does Chris Matthews have to say?" (Another problem: During huge stories, like the Boston bombing and subsequent manhunt, MSNBC frequently finds itself in the odd position of competing with its own sister network, when NBC News takes over the broadcast network.)
Ironically, MSNBC was alone among its cable news competitors in getting the Boston manhunt story right, a good deed for which they appear to be being punished. Fox News, meanwhile, has been carb-loading like Jabba the Hutt with ringworm on the three-headed Scandalabra™, and bloating its endlessly voracious audience in the process.
With or without the 8 pm switch, these vagaries of the news cycle were going to be a challenge for MSNBC, but they did little to mitigate them. While Fox viewers got an all-you-can-eat dessert buffet, every second of MSNBC's copious coverage of the Scandalabra™ was falling on apathetic ears. According to Pew, the IRS, Associated Press, and Benghazi controversies barely registered with normal people. At the same time, the network all but abandoned an issue that was generating twice as much interest, and which had been working really well for them. They still did some segments on gun control, but without an urgent news peg, and without the consistency and ubiquity of the Scandalabra™ coverage. The recent round of ricin letters has provided some fodder, but this month has seen some pretty major gun news go all but ignored.
Chris Hayes and Melissa Harris-Perry touched on the way the Mother's Day mass shooting in New Orleans was dismissed by the media as "street violence," but since then, there have been at least two other mass shootings involving black victims this month, which have been completely ignored. May was also the deadliest month for children since Newtown, with at least 20 gun deaths of children, and May also continued a trend of children shooting children that has been largely ignored. Instead of chasing Scandalabra™ coverage that news consumers care little about, MSNBC could devote some of those hours to reporting on news that is important, and which its audience is interested in.
Part of the problem is with the network's agenda-setting Morning Joe, which Pareene identifies as a too-political ratings drain, but which makes up for its poor ratings by wielding outsize influence with DC politicians and media figures. While host Joe Scarborough has been great on the issue of guns in the past, his conservative sensibility has led him to focus on political intrigue that hasn't resonated with audiences, which sets the tone for MSNBC's entire dayside lineup. There needs to be a little more editorial diversity on that program, and perhaps a reliably liberal presence on the show's panel of regulars to go with the ostensible agnostics who currently populate it.
It's difficult to say how much damage the April and May news cycles would have done to MSNBC on their own, or to what degree they could have been countered, without the concurrent decision to trade established ratings success The Ed Show with risky boutique upstart All In with Chris Hayes, but the combination has been deadly. Not only has All In understandably struggled to establish itself in the pivotal time slot, it has also siphoned off viewers from MSNBC tentpole The Rachel Maddow Show.
Even in a perfect world, without any external pressure from the news cycle, this would seem to be a risky maneuver with a dubious payoff. Ordinarily, you would want to give a brand-new show a strong lead-in, not rely on that brand-new show to lead off your entire primetime lineup. The knives have come out for Chris Hayes, which,  like Pareene, baffles me, because there is no cable news personality who bends over backwards to give the opposing viewpoint air the way Hayes does. Maybe it's the glasses. The show has delivered on its promise, substantively, but it has always seemed, to me, to be a better match for 10 pm, a space that would have also provided All In with a handy lead-in.
Lawrence O'Donnell's show, an established ratings brand like The Ed Show, would have seemed a more natural match for eight o'clock. The host's pugnacious style and the show's emphasis on news cycle sizzle make it a better fit for the time period. You'd have to change the name of the show, and tweak the format, but O'Donnell was better positioned to plug into that crucial slot than a completely untested property.
As a writer, though, I'm inclined to applaud risk and ambition, both of which All In copiously displays, but what's been largely overlooked is how the show's launch was basically doomed from the outset. Days after Ed Schultz announced he was moving to weekends, he made his last weeknight appearance. All In would not debut for another two weeks, and in the interval, the network went from a series of lame-duck Ed Show guest hosts to a bizarre week of 8 pm showings of Now. Even after I figured out that they weren't just re-running the noon edition of Now, I was still wondering, like whatever remained of the audience, "Why am I watching Now at 8 pm? Didn't I already watch this show today?"
Instead of handing off The Ed Show's full audience to the new show, MSNBC gave them two weeks to get out of the habit of watching the network at 8. Celebrity Hunger Games would have had a hard time launching under those circumstances.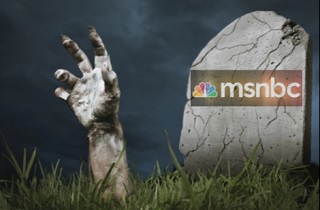 The good news is that much of this is fixable. The news cycle is cyclical (hence the name), and so without changing anything, some of this damage will repair itself. MSNBC has been heavily promoting its full coverage of the George Zimmerman trial for the killing of Trayvon Martin, which could easily make the Jodi Arias trial look like an episode of Judge Judy. MSNBC can also help itself by exercising editorial judgment that plays to its strengths, and serves the public.
But there are things that are more within Phil Griffin's control which can be changed. Ratings woes or not, All In is better suited to 10 pm, while O'Donnell is a known quantity who can plug the leak at 8.
I agree with Joe Concha that two hours of Hardball is too much, but I'd keep the 5 pm edition, and give 7 o'clock to a new, younger-skewing talent like Joy Reid, who has been getting a lot of guest-hosting under her belt. Joy has impressive new media chops, but with more reporting experience than a lot of bloggers, and a point of view that meshes well with the network's fastest-growing demographic. She'd also be the perfect digestif to the more outspoken, and less journalism-focused, Rev. Al Sharpton.
Finally, I would implore Phil to do what I've told him before: program 11 pm (he can still re-run the primetime lineup on the West Coast, and tape-delay the 11 o'clock show). If the success that Chris Hayes (and later, Melissa Harris-Perry) have enjoyed on weekends proves anything, it's the virtue of  tilling fallow ground. While Fox and CNN are showing re-runs at 11, MSNBC could use the time period to roll out an edgy, funny, and hopefully buzzworthy hour that tries to reinvent the wheel, without driving the whole lineup into a ditch. I'd suggest someone like W. Kamau Bell or Marc Maron (how much can FX and IFC really be paying them?), but in a format that looks more like cable news, and less like a late-night show. Up succeeded more because people were immediately talking about it, not because it attracted an instantly huge audience.
For some reason, there are a lot of folks eager to report the death of MSNBC, or at least the network's point of view programming, but those reports are premature. With a little bit of luck, some sound editorial judgment, and a few fairly painless programming changes, MSNBC should be back to Leaning forward in no time.
Have a tip we should know? tips@mediaite.com