What Slain Sandy Hook Student Daniel Barden's Brother And Sister Want President Obama To Do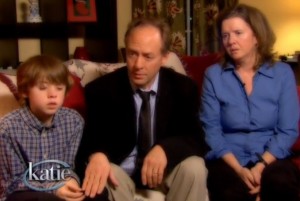 On Katie Couric's syndicated Katie program, the parents of 6 year-old Daniel Barden, one of the 20 children tragically killed last Friday at Sandy Hook Elementary School, told Couric that their time spent with President Obama at Sunday's prayer vigil was "a little less fruitful than we were hoping."
Daniel's father, John Barden, said that Daniel's 12 year-old brother James, and 10 year-old sister Natalie, had some things to tell the President that they didn't get to, and since they're unlikely to get a seat at the table with legislators and lobbyists, the President should listen to them here.
At a press conference Wednesday afternoon, President Obama announced a working group, to be led by Vice President Joe Biden, that will produce recommendations as to what can be done to prevent future tragedies, and laid down the same markers that political and media types have been urging  as a starting point: banning the sale of military-style assault weapons, banning the sale of high-capacity ammunition clips, and requiring background checks before all gun purchases. While this is a sea change from our pre-Connecticut conversation on gun control, it is miles away from where Daniel's sister, Natalie Barden, thinks it should start.
"My daughter, Natalie, was interested in asking him if he could pass some legislation so that the only people that had guns were military personnel and law enforcement," Mr. Barden told Katie Couric, "And if people needed guns for sport, they could go to a range, and the guns would have to stay there. That was my 10-year-old daughter. That was all her own original thought."
Twelve year-old James Barden, who asked that he be allowed to speak with Katie about his brother, said he wanted to ask the President "what he was going to do to make sure this never happens again. Because it should never happen again, no one should ever have to go through this."
Mr. Barden added that he and his wife are "still not even really fully aware, or really haven't processed or absorbed or digested the fact that our sweet little Daniel is not here with us any more. That's all we're trying to deal with at this moment."
Since James and Natalie are unlikely to make it onto Vice President Biden's working group, they should at least listen to what they had to say here:
What the President said at today's press conference is representative of an establishment consensus that we should begin with the "easy stuff," but the suggestion that Natalie makes illustrates the need to fundamentally alter our assumptions about gun policy, and, to paraphrase President Obama, not let that which is possible become the enemy of what is right.
The full interview is both heartbreaking and near-poetic in its depiction of this family's loss. Mom Jackie Barden recalls some moments from the morning of the shooting, when dad John lost a game of Foosball to Daniel by a score of 10-8, and then taught him to play Jingle Bells on the piano.
"Yeah, we did a lot in that half-hour," John said, with a palpable mixture of heartbreak and gratitude, adding "So, we held hands on the way to the bus."
Mr. Barden remembered that James also saw his brother that morning. "He did get up early that morning and ran down the driveway so he could kiss his brother good-bye in his pajamas. It was 22 degrees."
Those memories, frozen in time, as precious and as hard as diamonds, will live forever in the hearts of everyone who hears them.
Here's the full interview, from Katie:
Have a tip we should know? tips@mediaite.com