What The…? Barack Obama Cites Rupert Murdoch's Praise For Immigration Reform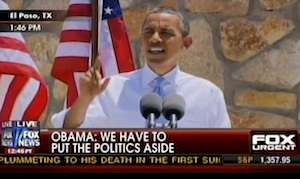 The White House would very much like for those of us in the media to discuss the merits of immigration reform in the coming days, perhaps because it has, in the past at least, proven to be a politically beneficial topic for the Democratic party. As such, President Barack Obama delivered a speech in El Paso, but took a surprising tactic with in his larger political strategy: citing "owner of Fox News" Rupert Murdoch for the media mogul's praise for immigration reform.
Text of his prepared speech is below, via the Murdoch ownedWSJ (emphasis mine):
There are Democrats and Republicans, including former-Republican Senator Mel Martinez and former-Bush administration Homeland Security Secretary Michael Chertoff; leaders like Mayor Michael Bloomberg; evangelical ministers like Leith Anderson and Bill Hybels; police chiefs from across the nation; educators and advocates; labor unions and chambers of commerce; small business owners and Fortune 500 CEOs. One CEO had this to say about reform. "American ingenuity is a product of the openness and diversity of this society… Immigrants have made America great as the world leader in business, science, higher education and innovation." That's Rupert Murdoch, the owner of Fox News, and an immigrant himself. I don't know if you're familiar with his views, but let's just say he doesn't have an Obama bumper sticker on his car.

So there is a consensus around fixing what's broken. Now we need Congress to catch up to a train that's leaving the station. Now we need to come together around reform that reflects our values as a nation of laws and a nation of immigrants; that demands everyone take responsibility.
It has been suggested before that the subject that Fox News loves most to cover is…Fox News. So perhaps Mr. Obama sees this as a sort of name check that will get his immigration speech in the nightly rundown on the most watch cable network in the land? Something about strange bedfellows?
Watch the clip embedded below, courtesy of Fox News:
Have a tip we should know? tips@mediaite.com